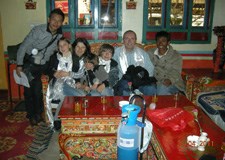 Take your family to Explore Tibet with experts in 2014.
(PRWEB) November 15, 2013
Sometimes trips to high altitude Tibet travel destinations can be difficult when traveling with children or family members who have trouble adjusting to the thin mountain air. Tibet travel agency TCTS (http://www.tibetctrip.com) offers new family tours that make it easy to see Tibet's scenery and famous cultural sites. The tour starts in Lhasa to allow time for acclimatization and heads for higher altitude regions of Tibet after everyone has had a chance to adjust. Family tours are fully customizable, but TCTS is trying to make the tours most popular for families.
Day 1: Arrive in Lhasa by train or flight! TCTS agent's Tibetan tour guide and driver will meet travelers at airport or station and transfer them to their hotel. TCTS does its best to arrange accommodations which are close to famous Tibet attractions like Barkhor Bazaar and Potala Palace. It's best to rest, relax, and drink lots of water on this first day. Care should be taken not to overexert oneself.
Day 2: Today groups will begin to experience the real Tibetan culture. They will have an easy day of walking while visiting Jokhang temple and Barkhor Bazaar. In the afternoon, it will be time to see the debating monks at Sera Monastery. Over the past centuries, Sera Monastery has become famous as a place for Buddhist scholarly learning.
Day 3: Now that travelers will have acclimatized to the altitude a bit more, today they will climb up into Potala Palace to witness breath taking views of Lhasa and the surrounding mountain scenery. Inside, some of Tibet's most important cultural treasures await visitors. This is the highlight of travel to Tibet for many travelers. After having lunch, travelers will see Drepung Monastery which was once the world's largest monastery, housing up to ten thousand monks.
Day 4: This is a day of adventure. Groups will visit Lake Namtso, the Heavenly Lake. The expansive mountain lake features uninhabited islands and water that shines turquoise. On the way back to Lhasa if time permitting, travelers have the option of taking some time to relax at Yangpachen hot spring.
Day 5: Guides will see groups off at the airport as their family Tibet tour ends. Be sure to ask a travel agent how to extend the trip to Nepal or China.
In just five days travelers are able to see some of Tibet's highlights without having to over exert themselves in a high altitude environment. Besides some light walking in Lhasa all travel is done in a private vehicle driven by a Tibetan driver. TCTS can accommodate groups of all sizes, making a memorable family tour in Tibet easy and enjoyable.
Tibet Ctrip Travel Service published above news release. TCTS is a Lhasa based travel agent focusing on quality services with reasonable prices. TCTS is committed to responsible tourism, Tibetan travel permit and sustainable practice. For a family Tibet tour 2014, travelers are welcome to start the tour planning now.