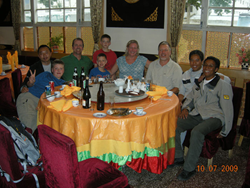 Contact local Tibet travel agency www.TibetCtrip.com for a real Great Tibet Vacation Tour Now!
Lhasa, Tibet (PRWEB) March 09, 2015
From finding a Tibet travel agency that suits the group's needs to laying out the perfect itinerary, it's easy for travelers to get bogged down in the details of planning a tour. To help travelers plan their adventure, Tony Yang of Tibet Ctrip Travel Service-TCTS (http://www.tibetctrip.com) shares updated tips for making tour planning easier in 2015.
The first step is to think about the group's interest, needs, and budget, then use this to decide what kind of tour would be ideal. For example, TCTS offers easy paced family-friendly sightseeing tours that are appropriate for all ages. These kinds of itineraries offer flexible schedules and enriching activities that provide an introduction to Tibetan culture. On the other hand, groups looking to push their limits may want to consider traversing one of Tibet's famous trekking routes.
Next, begin the search for a Tibet travel company that provides the kind of tour the travel group is looking for. A quick Internet search yields an endless list of options so it's best to send out inquiries to several and then follow up with the ones who respond promptly and are attentive to the groups' needs. Often, the experience during the booking process is indicative of what travelers experience upon arrival.
After finding a travel agency and nailing down an itinerary be sure to provide them with copies of passports and Chinese visas within the timeline they outline, this will help avoid complications in obtaining a travel permits for group members. As the tour draws near pack appropriately and prepare for an unforgettable experience!
Although the details may seem overwhelming at first, the key to planning a tour is to first focus on the group's interests and needs then find a quality Tibet tour operator who will guide the group through the rest of the process. The more travelers put into planning their tour the more they will get out of it. With the 2015 travel season coming up quickly, now is the time to start planning!