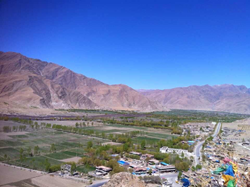 Enjoy your family vacation with local tour agency
Lhasa, Tibet (PRWEB) April 30, 2015
With the 2015 Tibet travel season right around the corner family friendly tours have been in high demand. Tibet travel experts agree that families are choosing to travel Tibet in much larger numbers than 2013-2014 most likely due to easing of travel restrictions and the availability of reliable tour operators. Estimates suggest that inquiries for family related tours are up about 10-20% year over year.
In addition to easier travel regulations and reliable tour operators many are looking for a way to break out of the hustle and bustle of every day modern life to enjoy unique and enriching cultural experiences set amongst some of the world's most impressive scenery. Tibet Ctrip Travel Service-TCTS (http://www.tibetctrip.com) makes visiting Tibet an easy experience for traveling families and discusses some of their newest options for the 2015.
Most prefer to begin their tour in Lhasa, however, TCTS is happy to arrange a tour for travelers looking to begin their trip in Nepal and come to Tibet either overland or by air. All necessary documents, such as Tibet travel permits, will be taken care of before arrival. To make sure everyone is well rested and acclimatized to the altitude before leaving Lhasa TCTS is now offering extensions to the Lhasa portion of their family sightseeing tours. Many are now choosing to stay an extra day to visit Norbulingka, summer palace of the Dalai Lama, and the Tibet Museum.
Once well acclimatized nearly all of Tibet is accessible to traveling families. When visiting Everest base camp many travel groups stay in nearby tent camps for easiest access to Everest. More comfortable options are now available at the inn at Rongbuk Monastery. Travel groups can enjoy views of Everest from the inn or take a shuttle to base camp if they prefer not to hike.
Whether they are looking to make a quick stop to see a few of the most famous Tibet attractions or looking for an immerse, getaway from it all, experience TCTS can design a travel solution to meets a family's needs. With the latest addition to TCTS's tour options travelers can ensure the trip is suitable for all ages. Traveling in Tibet broadens visitor's horizons and creates memories that last a lifetime through enriching cultural experiences and fantastic scenery. Availability for the 2015 travel season is filling up quickly so now is the time to start planning!