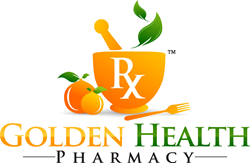 Golden Health Pharmacy will be your partner in total health. -- Elsa Lam, Founder
Sterling, VA (PRWEB) June 25, 2015
In July 2015, a new kind of pharmacy is opening in Sterling at the Sugarland Plaza Shopping Center, near Burlington Coat Factory.
Else Lam has been a pharmacist for more than twenty years. She noticed that many clients would get a prescription filled but not make changes in other aspects of their lives. The result was chronic illnesses and lower energy. She started to envision a new kind of pharmacy that worked towards the total health of its customers.
"When you have a chronic disease, you can feel so alone," says Lam. "You get a print out from the doctor with foods to eat but not much other support. Golden Health Pharmacy will be your partner in total health."
Lam wants customers to get inspired when they fulfill their prescriptions. Her pharmacy will offer:

Customized smoothie drinks – Many chronic illnesses rob the body of certain nutrients. While patients are given a list of foods to eat, many do not know how to cook those foods. Patients may feel exhausted and not know why. The pharmacy customizes the smoothie to replenish likely nutritional deficiencies based on medications.
Cooking demonstrations – In the evenings, customers can learn how to cook recipes based on their chronic illness. These recipes target the nutritional deficiencies associated with long-term medication.
Light therapy – Studies from the National Institute of Health show that different types of light can aid in reducing chronic pain or increasing energy. Customers can sit in a light therapy room while waiting for their prescriptions to be filled. A forty-minute session can transform a boring task into an invigorating one.
For customers with allergies, Golden Health Pharmacy offers on-site customization of medications. Customers can watch pharmacists mix medications and personal care products in a highly-specialized compounding room. Lam designed the room based on her years of experience as a pharmacist. Inspectors who certified the pharmacy gave it a perfect score.The compounding room allows customers to request any flavor or scent for their prescriptions or personal care products. The pharmacy can even mix pet medications.
"If your kids are allergic to fluoride, we can make you an organic toothpaste," says Lam. "If your cat needs a medication in a smaller amount than the manufacturer makes, we can mix it in the right amounts, and even make it taste like tuna."
Golden Health Pharmacy will open on July 1, 2015. Customers are invited to visit this new neighborhood pharmacy to try a smoothie and light therapy session. All insurance plans are accepted for prescriptions.