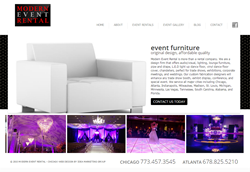 With the Idea team as our marketing backbone, we are ready to cement our position as the go to company for event rentals.
Chicago, IL (PRWEB) March 01, 2015
Modern Event Rental (MER) recently adapted a new updated online presence with a custom designed WordPress website built by Idea Marketing Group, a Chicago area marketing company. Working with Idea on the previous version of their website, Modern Event Rental worked with Idea again to set clear website objectives, creating a functional and highly productive website with a clean look.
Modern Event Rental is a leader in providing affordable, in-house designer furniture for special events, trade shows and exhibits of all sizes. They proudly design original and affordable quality-made furniture and manufacture every item in-house. They also create custom-fabricated pieces for a specific event client request. They fabricate, deliver, set up and remove pieces in a timely manner and provide a 24-hour emergency number for our clients.
"One of our biggest goals for 2015 was to have our website communicate that we are more than just a rental company," says Sid Sawhney, owner of Modern Event Rental. "After in depth research, it became clear that Idea Marketing Group was the clear choice again to lead our website redesign efforts. Their team took time to understand our company and most importantly who we are. They exceeded all our expectations both creatively and experientially. With the Idea team as our marketing backbone, we are ready to cement our position as the go to company for event rentals."
MER needed to update their internet presence to compete in the national marketplace. Idea added custom WordPress features to their website and updated the SEO aspects of the site. Now, the site offers easy to navigate menus that break down the products they offer into clear and manageable categories. Each rental item has an "Add to Quote" button, allowing the user to build a custom selection list for their specific event. MER staff can use the products section as a resource when helping clients choose the right products for their events. The new website also features a blog that showcases the latest trends, new rental items, and event decor ideas to educate and inform their customers.
Check out the new Modern Event Rental website.
Idea Marketing Group is a web design and marketing firm with offices near Chicago, IL. Since 2009, Idea strives to provide creative, unique and cutting-edge websites and individualized goal-driven marketing. Clients choose Idea Marketing for award winning web design and marketing services from an experienced and passionate web team that helps grow businesses. To learn more about MER or Idea, visit http://www.ideamktg.com or call 312.834.7001.