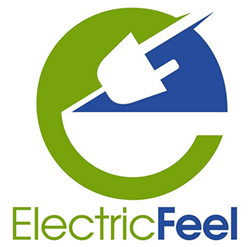 "My vision is for Electric Feel to become like gas stations for electric vehicles. It needs to be just as convenient to own an electric car, while helping people save money on fuel costs." - Farah Brunache, Founder
Washington, DC (PRWEB) May 21, 2015
As the number of electric car owners increases, so will the demand for car charging stations. There are only hundreds of charging stations in the Washington DC area now, as compared to thousands of gas stations. Meanwhile, there are already more than 7,000 electric vehicle owners in the region.
Entrepreneur Farah Brunache is an electric car owner and a visionary. She started Electric Feel, a company that leases parking spots from property owners around the Washington DC region to set up electric car charging stations. Electric Feel just kicked off a new Indiegogo campaign to raise money for the next charging station. The campaign aims to raise $10,000. If more is raised, Electric Feel will install more stations. The long-term goal is to have more than 200 stations in the Washington DC area.
"My intention is for Electric Feel to become like gas stations for electric vehicles," says Brunache. "It needs to be just as convenient to own an electric car, while helping people save lots of money on fuel costs."
For more details and to support this campaign, click here.
Electric car owners who donate to the campaign get free charging access for two weeks, one month or two months, depending on the amount given. For others, the car charging benefit can be given to a friend who does own one. Donors can also receive a bumper sticker that says "I don't have one but I'm efeelingit" or a bumper sticker with the Electric Feel logo.
Once the campaign is funded, Electric Feel estimates the new charging station will be operational within 6-9 months. Electric Feel is working on many potential locations around the region. The new charging station will be located at whichever site can be developed most quickly. The priority is to put charging stations in areas where there is lots of shopping and activities where people are running errands.
Electric Feel stands out from other companies that offer electric car charging because of its commitment to charging station maintenance. In some cases, charging stations can be down for days or weeks. But Electric Feel makes up-time a priority.

Electric Feel Recognized at White House Entrepreneurship Event
For her vision, Brunache was invited to the White House Emerging Global Entrepreneurs Event on Monday, May 11, 2015. She was one of only 74 entrepreneurs invited from around the world. Brunache was thrilled to receive business advice from panel members such as Mark Cuban of the hit show Shark Tank.
The federal government has invested $2.4 billion to support the development of next generation electric vehicles. Encouraging entrepreneurs such as Brunache to build the infrastructure to support those vehicles is a logical step.
At the event, President Obama and Secretary of Commerce Penny Pritzker announced that Kiva founder Julie Hanna will join the Presidential Ambassadors for Global Entrepreneurship (PAGE) initiative with eight others. Kiva Zip was the first funder for Electric Feel and provided much support in launching last year providing start-up capital. Brunache thanks Kiva for its support!