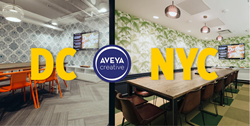 "Startups are unstoppable. Growing alongside new tech companies and other industry entrepreneurs is the best place for Aveya Creative right now. We're excited to be in two major cities, with more locations to open next year."
Washington, DC (PRWEB) July 29, 2015
The startup scene is booming around the world -- especially on the East Coast of the United States. According to the 2015 Startup Genome report, the world's most active startup ecosystems are Silicon Valley, New York City and London.
Historically New York City has been one of the most innovative and creative cities in the world; it is not surprising that the focus of today's generation of creators and entrepreneurs is to take a bite of the Big Apple of success in Silicon Alley.
Growth is the main goal for any startup; at Aveya Creative, steady, sustainable expansion is top priority. Through the mutual success of happy clients of course! After three and half years of strong presence in Washington DC as the first and only branding agency just for startups, Aveya Creative goes beyond its local limits to open a new office at WeWork in New York, NY.
"Startups are unstoppable. Growing alongside new tech companies and other industry entrepreneurs is the best place for Aveya Creative right now. We are excited to be in two major cities now, with more locations to open next year," says Mariya Bouraima, Founder of Aveya Creative.
Aveya Creative's NYC office is managed by Nicole Shadowen, Head of Design and Brand Presence. "Design and strategy are at the heart of the process of creating a brand," says Shadowen.
Please visit aveyacreative.com for more information about startup branding expertise and services offered to clients worldwide.
--
About:
Aveya Creative is proud to be the first boutique branding agency dedicated exclusively to entrepreneurs. Our mission is to transform ideas into top-of-mind brands. Core services at Aveya Creative are brand strategy, logos and taglines, pitch coaching and design; optimized copywriting, ad creative, press releases and social media management are also part of the mix. Past projects include the development and implementation of brand strategy and marketing materials for entrepreneurs in diverse industries across the US and overseas -- including startups at WeWork worldwide as well as prominent tech accelerators such as 1776 in Washington DC and Y Combinator in San Francisco.