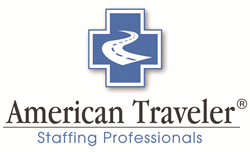 It was also important to enhance our hospital clients' experience in the redesign by providing faster ways to post open positions and learn about American Traveler's diverse offerings in workforce management.Robert Bok - CEO
Boca Raton, FL (PRWEB) January 20, 2015
American Traveler is pleased to announce the launch of the company's redesigned, signature website that provides an enhanced user experience and responsiveness across all devices such as desktop, tablets, and mobile. The redesigned site makes it even easier for healthcare professionals to search and apply for open nursing jobs and allied health positions on desktop, smartphones and tablets as well as deliver new content, pictures, traveler reviews, and videos about travel careers. American Traveler is a nationwide provider of healthcare staffing services and cloud-based workforce management automation solutions.
American Traveler's Chairman and CEO, Robert L. Bok is pleased with the redesigned site, "Because we are one of the fastest growing healthcare staffing firms in the industry with one of the highest retention rates for travel professionals, our goal is to improve our clients' online experience. Our redesigned website provides prospective candidates with an easy and comprehensive way to learn about the industry, our company, as well as easily access position postings from more than 3,500 hospitals nationwide. The new website is built on a responsive platform so that users visiting American Traveler using smartphones and tablets, have the full content of the website available on their mobile device."
Travel Nursing at Any Stage of Your Career
The travel nurse career section explains all you need to know about the profession and is a career option for nurses with a minimum of 12 months of acute care hospital experience. It includes a subsection on how graduate nurses can prepare themselves for a travel career by gaining the requisite experience, and how to position themselves for employment at some of the best hospitals in the country including world-renowned teaching and magnet hospitals.
Additionally, travel nursing videos showcase current travel nurses, of all ages, speaking about their travel experiences and the lifestyle they get to enjoy. Another section explains the travel job process from initial application to job acceptance. There's a gallery of the spacious, company-paid housing that healthcare travel professionals live in while on assignment.
Easier for Hospitals to Post Healthcare Jobs
The new website's "About Us" makes it easier for hospitals and healthcare systems to post open nursing positions and allied health jobs, request additional information, and find information on American Traveler's healthcare staffing technologies and consulting services.
Mr. Bok explains, "It was also important to enhance our hospital clients' experience in the redesign by providing faster ways to post open positions and learn about American Traveler's diverse offerings in workforce management. We continue to develop and improve our staffing software and service delivery and wanted to convey that in the redesign."
About American Traveler
American Traveler Staffing Professionals is a healthcare staffing agency and workforce management solutions company. They deliver nursing and allied health professionals to more than 3,500 hospitals nationwide including six state hospital associations and the three largest healthcare systems in the United States. American Traveler is the go-to staffing source for temporary and permanent healthcare professionals. The company has continuously demonstrated quality healthcare staffing services by earning the Joint Commission's Gold Seal of Approval consecutively since 2005.