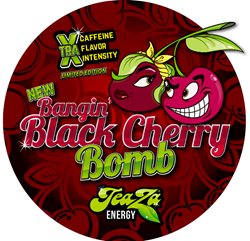 TeaZa® Energy is exceeding its goals, allowing us to create more offerings for our customers—Co-Founder and CEO, Dr. Brent Agin
Clearwater, FL (PRWEB) September 15, 2015
TeaZa® Energy, LLC announces today the launch of a new limited edition flavor for its innovative herbal energy pouches. The new flavor—Bangin' Black Cherry Bomb—will be available to customers online and select retail locations, the first week of October, 2015.
The new flavor is a bolder version of the existing Black Cherry flavor containing extra flavor, spice and caffeine. It is the first in a series of limited edition flavors created in response to customer requests for other varieties with an added kick.
"Our customers say they want more flavors and an extra boost, so we are giving them what they ask for," TeaZa® Energy's Co-founder and CEO Dr. Brent Agin explains. Other limited edition flavors are scheduled for release in the spring.
To determine the name of TeaZa® Energy's newest edition, the company ran a, "Name That Flavor" contest that received nearly 250 entries. The prize-winning name was actually a combination of two entries—Bangin' Black Cherry and Black Cherry Bomb. Two winners were selected. Each will receive a free tray of TeaZa® Energy in their flavor choice.
Bangin' Black Cherry Bomb flavored TeaZa® Energy contains a blend of herbs and B-vitamins and caffeine comparable to a cup of the leading premium coffee. It is sugar-free, gluten-free and contains zero calories. It will be available in a puck only and coupons and special offers will not apply.
Brand presence in multiple markets has been growing since Trim Nutrition, Inc.—a medical company headquartered in Clearwater, FL that develops and manufactures high-quality dietary supplements—introduced the product in 2012.
"It's an exciting time for our company. TeaZa® Energy is exceeding its goals, allowing us to create more offerings for our customers." Dr. Agin says.
About TeaZa Energy
TeaZa® Energy is an oral energy supplement formulated by a physician with natural ingredients. It is an herb and vitamin tea uniquely packaged in a small pouch for a safe delivery of smooth energy with no crash. TeaZa® Energy is available in 5 flavors: Peppermint, Black Cherry, Spicy Cinnamon, Coffee and Fire; and caffeine free TeaZa® Chill with Relora is available in Cool Mint flavor. TeaZa® Energy is also available in Bangin' Black Cherry Bomb flavor for a limited time only. TeaZa® Energy is produced, packaged and distributed out of Clearwater, FL. TeaZa® Energy is available online in the US and overseas and in select retail locations throughout the US. For more information visit teazaenergy.com.
###