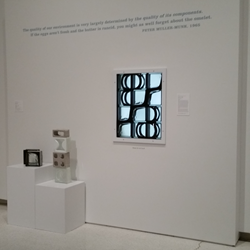 Later, [Peter Muller-Munk Associates] produced the Chiaro series, which came in two high-contrast block patterns and revealed an organic, sculptural surface.
Pittsburgh, PA (PRWEB) January 12, 2016
Pittsburgh Corning, a global manufacturer of high performance glass products, is fusing architecture with art. On November 20, 2015, the Carnegie Museum of Art opened a new exhibit titled, 'Silver to Steel: The Modern Designs of Peter Muller-Munk'. Muller-Munk was an artist, a designer, and a problem-solver whose foremost concerns were to create products and develop solutions. The exhibit is the first retrospective of Muller-Munk's career and tells the untold story of one of the preeminent industrial designers of the mid-twentieth century.
An excerpt from the Carnegie Museum of Art:
"A German émigré to the US who moved to Pittsburgh in 1935, Peter Muller-Munk (1904–1967) was a brilliant silversmith, a pioneering industrial designer and educator, and a visionary spokesperson for his profession. Silver to Steel is the first retrospective of his four-decade career, and it situates Muller-Munk among the most influential designers of his generation. With more than 120 works of hand-wrought silver and popular midcentury products, supported by drawings, multimedia interviews, and period advertising, this exhibition presents the untold story of a man who rose from anonymity as a young silversmith at Tiffany & Co. to become a crucial postwar designer, promoting the practice of industrial design across the globe through one of the top design consultancies in America: Pittsburgh-based Peter Muller-Munk Associates (PMMA)."
The Pittsburgh Corning brand has a long legacy of art and architecture. In the 1960's, PMMA worked with Pittsburgh Corning to revamp old products and develop new architectural glass block products, which became Intaglio™ and Chiaro™, respectively. The Intaglio series came in four transparent shapes, but maintained glass block's traditional advantages: insulation, sound buffering, light transmission, and privacy. Later, PMMA produced the Chiaro series, which came in two high-contrast block patterns and revealed an organic, sculptural surface. In 1968, the Chiaro™ Pattern glass block won the International Design Award, presented by the American Institute of Interior Designers.
The exhibit runs through April 11, 2016.
About Pittsburgh Corning
Pittsburgh Corning is a global manufacturer of sustainable, high performance glass products for the building, energy and industrial markets. Headquartered in Pittsburgh, Pennsylvania, Pittsburgh Corning is an equity affiliate of PPG Industries, Inc. and Corning, Inc. The Pittsburgh Corning glass block business is the only United States manufacturer of premium glass block products and specialized architectural window systems for commercial, institutional, government and residential buildings. Visit http://www.pghcorning.com/ for more information.