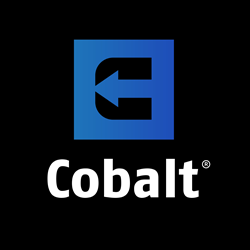 These are exciting times for Cobalt, we have a great team representing us in the UK and EMEA and we are ready to show the world that our award-winning products can revolutionise their resilience.
London, UK (PRWEB UK) 23 December 2015
Founded in 2008, the company already has its headquarters in Canada and a presence in United Arab Emirates. The London office will be Cobalt's EMEA hub and will drive the marketing strategy to increase the company's accessibility to its worldwide customer base.
Cobalt is at the forefront of the business continuity industry, providing advanced, innovative solutions to companies seeking to increase their resilience to the ubiquitous threats to security and productivity. Its range of products has been developed using the latest technology and following consultation with its valued asset, its stakeholders.
Jean-François Plante, Cobalt founder and CEO, says, "We have always worked with a clear focus on innovation and quality; by talking to people and learning about their unique experiences, shared concerns and organisational needs, we have been able to develop solutions that facilitate optimum incident management and business continuity."
Award-winning graduate Rebecca Thirkettle is the UK Business Development Representative and has joined Cobalt with a 1st Class Honours Degree in Public Relations/Image Management. "My role focuses on building relationships in Europe, Middle-East and Africa," says Rebecca. "Working closely with companies across multiple markets in both the private and public sectors, I hope to encourage and help develop organisations by integrating Cobalt systems into their crisis management plans, enabling organisations to become more resilient and prepared to deal with any incidents that may occur. These are exciting times for Cobalt and I'm proud to be part of such an innovative and talented team."
Rebecca and the UK team have played an intrinsic role in the planning and execution of Cobalt's new website that was launched in December 2015 and gives current and potential customers an insight to the company and its capabilities.
Jean-François sums up, "These are exciting times for Cobalt, we have a great team representing us in the UK and EMEA and we are ready to show the world that our award-winning solutions can revolutionise their resilience."