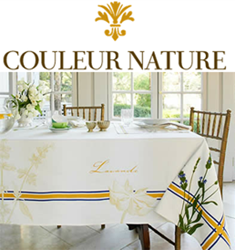 Poway, CA (PRWEB) January 30, 2015
Fine French linens and home décor and accessories manufacturer Couleur Nature and Caravan is proud to announce their new Spring/Summer 2015 Collection. Caravan, Couleur Nature's contemporary home accessories line, is known for its commitment to relaxed, everyday living. The new collection has been featured at the Atlanta Gift Show, Las Vegas Gift Show, and the Seattle Gift Show and will continue its tour at NY Now Gift Show, booth #3356 from February 1-4.
The new Caravan collection features an exciting array of raw materials from around the world. Premium horn glasses and housewares are hand crafted and pair beautifully with acai wood bowls and trays. Handmade to ensure the highest quality, these contemporary housewares create a timeless look perfect for any occasion.
Earthy materials are accompanied by an assortment of white marble kitchen wares, and sea grass place mats and baskets, ideal for any kitchen or dining room. Beautiful blue, orange and green wine and champagne glasses brighten up your table spread, perfect for the spring and summer seasons.
Just in time for outdoor entertaining, Couleur Nature introduces two new print collections, Merlot and Chardonnay. Soft yellow and rich red grapes cover this hand painted design, available for French tablecloths, tea towels and linens. Bright yellows and reds make this the perfect print for warmer months.
ABOUT COULEUR NATURE
Couleur Nature was formed in 1997 to wholesale the Couleur Nature product line, a selection of fine, French-inspired Indian woodblock-printed linens designed exclusively by Bruno Lamy; later, the brand expanded to include the Caravan home accessories product line, which is comprised of the best vintage and hand-crafted home accessories from all over the world. Today, Couleur Nature's beautiful linens and home accessories are sold to both retail and wholesale customers all over the world.