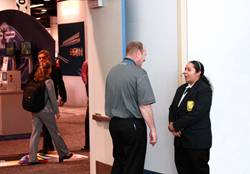 Northridge, CA (PRWEB) March 24, 2015
Contemporary Services Corporation (CSC), the world leader in crowd management and event security, announces its contract renewal with Anaheim Convention Center in Anaheim, CA to provide crowd management and guest services through 2018. Anaheim Convention Center opened its doors in 1967 and houses 813,000-square-feet of exhibit space, making it the largest exhibit facility on California's west coast.
CSC Orange County has provided event staffing for many major convention events held at Anaheim Convention Center, a CSC client since 2007, including WonderCon, VidCon, Medical Design & Manufacturing West, and the North American Association of Food Equipment Manufacturers. CSC's services for Anaheim Convention Center are provided under the direction of David Meek, Convention Center Manager, Richard Groscost, Security and Safety Manager, and Ed Lovell, Crowd Control Supervisor.
Led by Branch Manager Paul McDermott, CSC Orange County also provides services for other venues and events, including Angel Stadium of Anaheim, City National Grove of Anaheim, California State University Fullerton, Angels Baseball, Supercross, Monster Jam, Bullhead City River Regatta, The Irvine Company, and Capistrano Unified School District.
Contemporary Services Corporation (CSC) is the world leader in crowd management and event security for the entertainment and sporting event industries. Throughout its 48 years of experience, CSC has garnered a loyal and esteemed clientele base, including more than 150 stadiums and arenas, over 100 universities and colleges, more than 30 convention centers, and numerous clients within the professional ranks of MLB, MLS, NBA, NFL, NHL, and NASCAR. CSC has also provided services for the world's most prestigious special events, including Collegiate Bowl Games, NCAA Final Four Tournaments, Ryder Cup, Presidents Cup, US Open Tennis, 30 Super Bowls, 9 Olympic Games, 4 Presidential Inaugurations, 2 Papal Visits, and 2 FIFA World Cups. CSC operates more than 50 branch locations throughout the United States and Canada.
http://www.csc-usa.com