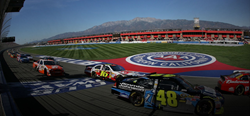 Northridge, CA (PRWEB) April 21, 2015
Contemporary Services Corporation (CSC), the world leader in crowd management and event security, is pleased to announce its continued partnership with Auto Club Speedway in Fontana, CA through 2018. CSC San Bernardino will provide crowd management, guest services, security, and bag searches for Auto Club Speedway, a client since 1997, under the direction of Dave Allen, President, Ray Wilkings, Vice President of Operations, Brian Geye, Sr. Director of Operations, and Mike Korpal, Security Manager.
Auto Club Speedway is California's premier motorsports facility, hosting over 320 days of track activity each year including the NASCAR Sprint Cup Series Auto Club 400 race, the NASCAR Xfinity Series Drive4Clots.com race, and the Verizon Indycar Series MAVTV 500 race. Formerly known as California Speedway, the two-mile D-shaped oval superspeedway has hosted NASCAR racing annually since its grand opening in 1997. Auto Club Speedway is also home to Festival Cardenas, an annual event hosted by Cardenas Market, featuring food, music, and entertainment.
CSC San Bernardino, led by Branch Manager Chiedu Onwughalu and Assistant Branch Manager Eric Granger, also provides services for clients including Azusa Pacific University, Cal Poly Pomona, California State University San Bernardino, Empire Polo Grounds, National Orange Show Event Center, and University of California Riverside.
Contemporary Services Corporation (CSC) is the world leader in crowd management and event security for the entertainment and sporting event industries. Throughout its 48 years of experience, CSC has garnered a loyal and esteemed clientele base, including more than 150 stadiums and arenas, over 100 universities and colleges, more than 30 convention centers, and numerous clients within the professional ranks of MLB, MLS, NBA, NFL, NHL, and NASCAR. CSC has also provided services for the world's most prestigious special events, including Collegiate Bowl Games, NCAA Final Four Tournaments, Ryder Cup, Presidents Cup, US Open Tennis, 30 Super Bowls, 9 Olympic Games, 4 Presidential Inaugurations, 2 Papal Visits, and 2 FIFA World Cups. CSC operates more than 50 branch locations throughout the United States and Canada.