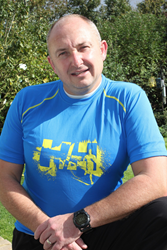 The incredible charity Children with Cancer will keep me focused, as it has done through the training. I am aiming to raise upwards of £50,000 and I know I can do it
Chelmsford, UK (PRWEB UK) 16 February 2015
40 year-old Dave Sissens has been raising money for Children with Cancer UK since 2002, when he ran his first marathon, and has since undertaken feats including a gruelling ten-day unsupported walk to the North Pole that have so far raised more than £35,000 for the charity.
For his latest challenge, ex rugby player Dave, who lives in Great Dunmow with his wife Gillian and their two dogs, researched the Paris to London run and discovered that no-one has ever covered every single mile.
"I invested a little time in researching what I would like to do and I discovered that no-one has ever run mile-for-mile from Paris to London. Plenty have covered the distance but in terms of running every mile, no one has covered the 20-plus miles that include the ferry-crossing. With the help and support of P&O Ferries, I will cover that distance on a treadmill that they will set up on board the vessel."
Dave's support team will include Team GB Physio Faye Pattison, wife Gillian, who will be driving one the support vehicles that have been donated by local businesses, and friends who will run and cycle alongside him for sections of the challenge.
However, despite his large team of supporters, Dave will be running alone across open countryside for many of the 300-plus miles.
"My biggest concern is the mental challenge of running alone," says Dave. "For safety reasons, there will be a lack of a support vehicle on many of the roads and I will have to face the reality of the situation and learn to accept the solitude. The other concern is to physically get through 13 marathons; I have no doubt there will be a level of discomfort at times and so pain management will be foremost in my mind."
After running the Paris marathon on Sunday, April 12th, Dave will run the equivalent of a marathon for 13 consecutive days, covering 300 miles before heading straight into his last 26 miles – the London Marathon on Sunday, 26 April.
"The incredible charity will keep me focused, as it has done through the training. I am aiming to raise upwards of £50,000 and I know I can do it," says Dave. "I was recently invited to Great Ormond Street to see the cancer labs and be shown where the money was spent. Children with Cancer not only provide care for the suffering kids, but they also fund some fantastically innovative projects which really are making great inroads into success rate of stopping the disease. That's what matters. That's what I think about and that's what gets me through these things. Every life counts."
To find out more, or sponsor Dave go to http://www.paris2.london