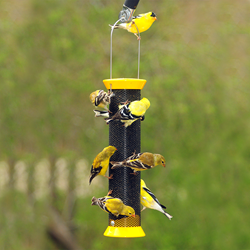 Feeding Goldfinches is a favored pastime for most backyard bird watchers.
Plainfield, CT (PRWEB) July 16, 2015
Droll Yankees has expanded their Finch bird feeder line with the addition of two New Generation Metal Finch Sock Bird Feeders. These feeders offer the appeal of traditional finch socks while providing the durability of sturdy, all-metal construction.
Feeding Goldfinches is a favored pastime for most backyard bird watchers. The finches' bright yellow summer coats, a dramatic change from their drab winter garb, reward songbird enthusiasts with color, song, and charm. Goldfinches, who are among the strictest vegetarians of the bird world, rely exclusively on seeds from plants, both in nature and in bird feeders. When using a feeder for sustenance, Finches especially like Nyjer® seed.
Finch socks are a standard way to dispense Nyjer seed. These feeders enjoy popularity because they suit the task in two ways. The openings in the fabric surface make it easy to cling to and they provide hundreds of tiny apertures for seed. However, fabric finch socks are susceptible to squirrels and the elements and are basically throw-away items. They oftentimes do not last long enough for the seed to be fully consumed by the birds.
The New Generation Metal Finch Sock Bird Feeders provide the same appealing features as a fabric finch sock and much more. When feeding in the wild, Goldfinches balance lightly on the edge of the seed heads of certain flowers and plants to pull out seeds. When the Metal Finch Sock is filled with Nyjer seed, the small interlaced oblong openings align perfectly with the seed within, just as in nature. This textured surface is ideal for the way Goldfinches cling and allows them to feed in their most comfortable, natural positions. They can pull seeds one at a time as they would on a flower in the wild, thus preserving their preferred feeding style.
The all-metal construction provides durability and reliability to last for years of finch feeding. Even though squirrels and other pests might try to feed, the tiny holes limit their access to the food and they cannot destroy the seed holder as they can with fabric finch socks. They cannot penetrate the metal encasing the precious seed and the food remains for finches exclusively. The zinc cap and base and the steel tube are powder-coated and can be cleaned easily with mild detergent and a brush. This feature ensures that the product is a reliable source of enjoyment for years, not simply a throw-away item. Two color choices are available, with either a traditional silver or Goldfinch yellow cap and base, both with a black feed tube.
As Goldfinches are not nearly as protective of personal space as other bird species, it is possible to have a flock of several birds, known as a Charm, sharing one 13" Metal Finch Sock Nyjer feeder. The crisp yellow and black of the male Goldfinches and the subdued shades of the females make a striking contrast against the black powder-coated tube of the Metal Finch Sock.
###
Visit http://www.drollyankees.com to learn more about feeding birds and to purchase bird feeding products.
In 1969, Droll Yankees started a bird feeding revolution with Model A-6F, the first tubular bird feeder. Since then, Droll Yankees has built on that success, continually developing innovative approaches to bird feeding that benefit both the birds and Droll Yankees customers. Generations of bird lovers have appreciated Droll Yankees' quality construction, functional simplicity, and commitment to American workers. Droll Yankees offers a Lifetime Warranty Against Squirrel Damage and will replace any squirrel-damaged or defective parts, free of charge. To learn more about Droll Yankees' products, visit drollyankees.com