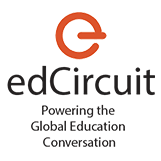 EdCircuit can do for global education, what Food Network did for the culinary arts.
Washington, DC (PRWEB) April 02, 2015
Today Donna Krache, former executive producer of CNN Student News and the creator and editor of CNN.com's "Schools of Thought" announced the launch of a new global education news and information web channel, EdCircuit.com. EdCircuit features diverse perspectives and voices from numerous stakeholders in education, including educators, teachers, decision makers, advocates, businesspeople, innovators, entrepreneurs and the global education community.
"After many years as a parent, teacher and education journalist, I have a lot of thoughts and questions when it comes to education. And as a former news producer and information junkie, I know it's rare to find a space that incorporates all the diverse voices that lend themselves to the education conversation," said Donna Krache, Executive Producer and Managing Editor of EdCircuit. "So when I was asked to help create that kind of space, I jumped at the chance."
EdCircuit is now rich in high quality audio and video interviews, as well as opinion pieces written by some of education's well known thought leaders. The site launched with over 100 multimedia assets presenting intimate conversations with global thought leaders as well as lessons learned from various global events.
In addition, to news, information and global viewpoints, embedded within the EdCircuit site are a number of video channels that provide explainers on topics related to global education, as well as media coverage for major global education events. EdCircuit continues to grow its video asset base by driving into various areas of the education eco-system and providing new content channels that expand the conversation, answering critical questions and providing teachable insights.
The event channels currently on EdCircuit include highlights and interviews from the BETT Show (a global education conference with over 40,000 international attendees), The World Education Forum (a global gathering of education ministers), SXSWEDU in Austin (a North American conference for education entrepreneurs and innovators) and ASCD (the largest US conference for k12 curriculum), not to mention the education industry questions channel.
EdCircuit is working with, and creating partnerships with, various global event coordinators and recently formed a global media partnership with ASCD. In addition, partnerships with organizations like American Ed TV (and Verizon), Core of Education] and other major media, network, and PR partners provide global distribution for our sponsors, and those looking to reach educators and education decision makers.
The EdCircuit team aligns industry sponsors to various topics of interest to accelerate its ability to produce and deliver fresh, thoughtful and teachable education content. EdCircuit's goal is to be the single source and aggregator for thoughtful insights on what is happening in education today, worldwide.
"It's the EdCircuit teams belief that long term, with the release of new video channels, EdCircuit can do for global education, what Food Network did for the culinary arts," said Donna Krache. "Subscribers will hear from different stakeholders, some well-known and some relatively unknown, who have something to say and want us all to hear it. These stakeholders come from the world of education, of course, but also from the business and the nonprofit sectors. Subscribers will be informed, entertained, surprised, and maybe infuriated. And that's okay. Our hope is that everyone will participate in the conversation and provide insights and a voice on various happenings. Together we will get to the heart of global education issues and what education thought leaders, teachers and participants care about."
About EdCircuit
EdCircuit is a global education multimedia network featuring diverse perspectives and voices from numerous stakeholders in global education. EdCircuit's goal is to be a single source and multi-media aggregator for information, news, thought leadership, industry insights and entertainment for what's happening in global education today, with outreach to thought leaders, participants, innovators, and global education decision makers.
Add your "power to the global education conversation" by subscribing to EdCircuit, following EdCircuit on Twitter, becoming a contributor, engaging in a sponsorship, or by simply visiting the EdCircuit site. EdCircuit is a MindRocket Media Group multi-media global education web property.