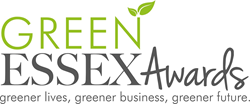 We want everyone to get involved and have made entry easy to complete and free of charge for all the awards categories. This initiative is about creating a greener Essex through greener lives, greener business and a greener future for all
Essex, UK (PRWEB UK) 16 August 2015
Having been involved in numerous regional awards over the last four years as winners, sponsors and judges, Zero Above has joined forces with Essex publisher and event organiser Business Connected and PR Company The Write Impression to launch the inaugural Green Essex Awards programme, which is open for entries now.
The Green Essex Awards are designed to recognise and reward companies, organisations, community projects, education establishments and charities within the county of Essex for their efforts to reduce their carbon footprints and improve environmental performance. Organisers hope the awards will also act as a link between businesses and the community, who have a shared responsibility for the environment.
Colchester Borough Council, Colchester Travel Plan Club, Monthind Clean and EASYsolution 4 Nursery Education have demonstrated their commitment too, by becoming award sponsors, alongside the organisers.
The ten award categories, which are all free to enter, have been created to recognise the diversity of business, community and not-for-profit organisations who deliver the:
Greenest business
Greenest product or innovation
Greenest community project
Greenest transport
Greenest building
Greenest school or educational establishment
Waste and recycling
Water management
Best renewable energy project
Local food and drink champion.
Simon Isaac Strategy Partner at Zero Above says: "We know from our own experience working with organisations in Essex how committed our business community is to environmental responsibility. This is an opportunity for everyone, from sole traders to corporate organisations to showcase their ethos, activities and achievements. We want everyone to get involved and have made entry easy to complete and free of charge for all the awards categories. This initiative is about creating a greener Essex through greener lives, greener business and a greener future for all.
The scheme and awards programme offer valuable opportunities to businesses to share best-practice procedures to reduce environmental impact and work towards creating a greener Essex, and will engage with and inform organisations who are interested in improving their carbon footprint. By providing accreditation for businesses and organisations that are making stringent efforts to manage their environmental impact, the awards will identify Essex as a County making a difference to the environment.
The Green Essex Awards ceremony will take place on Friday, 23 October 2015 at a Business Connected breakfast networking event at the Weston Homes Stadium, Colchester. Entry is free of charge and open now at: http://www.greenessexawards.com