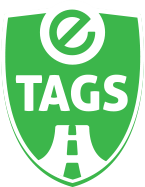 We want to give our customers more resources that can help them with their motor vehicle needs.
Fort Lauderdale (PRWEB) May 05, 2015
Renewing your vehicle's registration with eTags, formerly eTagsDirect, just got better. eTags customers continue to sing praise of the site's ease of use and unparalleled value evident in thousands of positive reviews since its launch just a few months ago.
As an added value to renewing vehicle registration through eTags, a free vehicle history report is now provided. Once a person processes their registration renewal through the eTags' online engine, they will receive an email which will include both a confirmation of their order processing and a link to where they can retrieve the history report for their car. "We want to give our customers more resources that can help them with their motor vehicle needs," stated one website representative. "This is just one of the many additional benefits we offer the consumer."
When performing a vehicle history check, eTags' VIN (vehicle identification number) Look-up tool goes to work by souring data from the National Vehicle Title Information System (NMVTIS) and Edmunds; a leading vehicle history reporting company. The eTags vehicle history report is fully equipped with all of the most pertinent information for someone looking to buy a car or even just view the history of a vehicle they already own. It provides information on major accidents, salvaged or junked title, vehicle ownership history, vehicle use, last reported mileage and much more. By paying the low eTags service fee, they promise the following:

Processing and shipment of registration renewals up to 300% faster than directly through the state
A digital copy of the vehicle registration available within hours of completion
One time replacement if vehicle registration is lost
One time replacement of stolen or lost sticker or plate (police report must be filed)
Annual reminders avoiding a costly ticket should your county be one of many that do not issue registration renewal notices or if one is lost in the mail
Shipment out of state if requested
Comprehensive customer service available Monday through Friday 9am-5pm EST
And now a free vehicle history report
About eTags
eTags is a Shopper Approved website with over 3,000 Five Star ratings. They offer simple and fast tag registration renewal, free DMV address change resources and vehicle history reports.