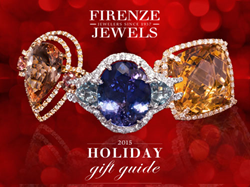 New York, New York (PRWEB) December 03, 2015
Renowned New York Diamond District jeweler Firenze Jewels is pleased to release its 2015 Holiday Jewelry Gift Guide. The highly anticipated annual guide features the latest top jewelry trends and perfect gift ideas for this holiday season. The jeweler says its top in demand gifts include stackable rings, diamonds by the yard necklaces, rose gold jewelry, diamond hoop earrings, and diamond stud earrings.
Pieces throughout the guide incorporate some of the year's most sought after gemstones such as tanzanite, blue topaz, aquamarine, citrine, morganite, as well as pink and purple amethyst. Every piece in the collection is masterfully handcrafted by world-class artisans featuring only the finest quality diamonds, gemstones, and precious metals.
All jewelry in the Firenze Jewels Holiday Jewelry Gift Guide is in stock and ready to ship.
In addition to the release of its Holiday Jewelry Gift Guide, the New York City jeweler is offering a special holiday promotion. From December 1st to December 20, 2015, Firenze Jewels is offering free shipping on every order when the promotional code 'MERRY' is used at checkout.
For more information, contact a fine diamond jewelry specialist at 1.800.790.6980 or visit the Firenze Jewels showroom, located at 15 West 47th St #4 in New York, right in the heart of the New York City Diamond District.
The Firenze Jewels Holiday Jewelry Gift Guide can be viewed on the official Firenze Jewels website at http://www.FirenzeJewels.com.
About Firenze Jewels
Family owned and operated jewelers since 1937, Firenze Jewels is located in the heart of the Manhattan Diamond District. Their staff, which includes talented designers as well as a graduate gemologist from the renowned GIA (Gemological Institute of America), have been with them for over 12 years, and collectively bring decades of knowledge and expertise to ensure every shopping experience is a positive one. Firenze Jewels carries the world's top designers, an extensive collection of G.I.A. and E.G.L. certified diamonds, and the most elegant and sophisticated wedding band, engagement ring, and jewelry collections.