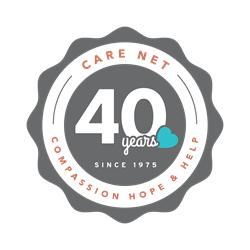 Every day pregnancy centers are offering compassion, hope, and help to women and men facing pregnancy decisions.
Lansdowne, VA (PRWEB) August 26, 2015
Over 73,000 lives were saved in the last year through Care Net's national network of over 1,100 affiliated pregnancy centers. This brings the grand total over the last seven years to 462,089 lives saved.
This data, among other accomplishments, was released today in Care Net's new "2015 Impact Report," which is created from data collected annually from Care Net's affiliated pregnancy centers and Care Net's Pregnancy Decision Line, the only national hotline providing immediate pregnancy decision coaching.
One of the most important accomplishments over these last seven years is that eight of ten women considering abortion when they enter a Care Net pregnancy center choose life. Additionally, centers have provided 698,649 no-cost ultrasound scans, 828,190 clients have received parenting support and education, more than 1.2 million people heard the Gospel, more than 1.2 million people received material resources, and 2.1 million no-cost pregnancy tests were given at the centers.
Roland Warren, Care Net President and CEO, stated, "Every day pregnancy centers are offering compassion, hope, and help to women and men facing pregnancy decisions. This free support enables those considering abortion to know there are realistic alternatives to abortion, and that they will have the support structure they need to choose life for their child and abundant life for their families."
Warren added, "Approximately 1,130 Care Net affiliated pregnancy centers welcome those facing unplanned pregnancies with life-arming compassion, hope, and help. Every year about 30,000 people volunteer at these pregnancy centers. And since 2009, there has been a 37 percent growth in the number of Care Net centers providing no-cost ultrasounds to their clients."
To view more information on the work accomplished by pregnancy centers, view the 2015 Impact Report at care-net.org.
Pregnancy centers are local, nonprofit organizations that provide compassionate support to women and men faced with difficult pregnancy decisions. Services provided by centers may include options counseling by trained advocates, no-cost pregnancy tests, information about adoption and parenting, material resources, and post-decision support (including parenting education and abortion recovery groups).
Founded in 1975, Care Net supports one of the largest networks of pregnancy centers in North America and runs the nation's only real-time call center providing pregnancy decision coaching. Acknowledging that every human life begins at conception and is worthy of protection, Care Net offers compassion, hope, and help to anyone considering abortion by presenting them with realistic alternatives and Christ-centered support through its life-affirming network of pregnancy centers, organizations, and individuals. Learn more at http://www.care-net.org.