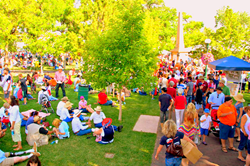 The SantaFe.com 2015 Independence Day Guide to Santa Fe is great starting point for visitors this 4th of July" states SantaFe.com Managing Editor Laura Shields
Santa Fe, New Mexico (PRWEB) July 03, 2015
The list of things to do in Santa Fe, NM during the 4th of July 2015 is long. Travelers can now refer to the SantaFe.com 2015 Independence Day Guide to Santa Fe this 4th of July as a starting point and then expand from there. SantaFe.com encourages everyone to have fun and enjoy the beauty, culture and food of the City Different, the surrounding area and the State of New Mexico this Independence Day.
Santa Fe: the name conjures up visions of culture, great food, a rich 400-plus year history, 300-plus days of sunshine each year, beautiful architecture, amazing museums, opera, art galleries, the annual 4th of July Pancake Breakfast on the Historic Santa Fe Plaza and the world famous Santa Fe Indian Market, to name just a few.
"The SantaFe.com 2015 Independence Day Guide to Santa Fe is great starting point for visitors this 4th of July" states SantaFe.com Managing Editor Laura Shields.
SantaFe.com 2015 Independence Day Guide to Santa Fe
# 1 Pancakes on the Plaza is one of Santa Fe's oldest traditions. For 40 years, hundreds of locals and visitors gather on our capitol's central lawn to commune over yummy, syrupy pancakes. ickets are $7 in advance, $8 on the fourth. Pancakes begin serving at 7 AM.
# 2 Just off the Plaza, inside The Palace of the Governor's courtyard, the New Mexico History Museum is hosting a 'Young Native Artists' Show and Sale. This is a free family event that allows collectors and visitors to view and purchase art from kids whose skills rise above the rest.
# 3 The Tesuque Flea Market is a great choice for people who would prefer a more eclectic shopping experience, and now is the time they are in full swing. The Tesuque Flea Market plays host to dozens of vendors from all over the world.
# 4 A block west of the Plaza visitors will find an outdoor walking tour of some of Santa Fe's best artists. The Santa Fe Society of Artists exhibits local artists and their work downtown for people to view and purchase.
# 5 The Cumbres and Toltec Scenic Railway is ready to take you to Chama for the Fourth to remember. Cool temperatures and dreamy mountainous landscapes, visit their website for tickets and info.
# 6 New Mexico's treasured 'living history' museum, El Rancho de las Golondrinas, hosts the annual Santa Fe Wine Festival from noon to 6 p.m.. This event is held all weekend, so if you miss Saturday, be sure to check it out on Sunday. In La Cienega, just south of Santa Fe, check out their website.
# 7 The Kiwanis Club of Los Alamos is hosting a 4th of July celebration with live music, craft and food vendors, parachute landings and a spectacular fireworks show later that evening. Live music 2 p.m. until 9:30 p.m. by Eddy and the Nomads along with Community Winds and a Battle of the Bands. Call Steve Boerigter for more information at 505-672-4124.
# 8 Dining in Santa Fe 4th of July 2015

Joe's Dining on the south side of Santa Fe in Rodeo Plaza, is serving a special July 4th menu with Kobe Wagyu beef hot dogs, New Mexico bing cherries, and strawberry and blueberry shortcake-perfect for lunch or dinner.
315 Restaurant & Wine Bar in the heart of downtown is serving a prix fix dinner menu and will have live jazz on the patio. Visit their website for more details.
The Cowgirl will have DK and The Affordables on the patio and serve dinner and drinks from the bar all night. Check out The Cowgirl's list of events on their website.
# 9 The fabulous Skylight Santa Fe is hosting a special Fourth of July BBQ and party. Great DJ's, dancing, outdoor barbeque and $5 mixed drinks make Skylight a fantastic downtown celebration spot to show off your independence. Visit Skylight for more information.
# 10 Santa Fe Opera. July 4th is the opening of Rigoletto, a striking performance of political corruption and drama. One of Verdi's masterpieces, the Opera has baritone Quinn Kelsey and soprano Georgia Jarman to make this a spectacular end to any evening. Visit Santa Fe Opera for tickets and times.
In conjunction with Santa Fe County, Capitol City Cab is offering $1 cab rides in the city limits. This program is designed to cut down on drunk driving-so, get out there, enjoy the holiday, and get home safely! 505-438-0000, or here for more information.
About SantaFe.com:
SantaFe.com knows all about Santa Fe because it covers the subject end to end, 24/7. There's the super popular Event Calendar, the News section covering Music & Entertainment, Community, Dining & Drink, Art & Culture, Fashion & Style, Outdoor, Sports & Recreation, Home & Garden, the Restaurant Guide, and the Entertainment Guide, to name a few. SantaFe.com is the expert source on the web for anything and everything in this magical Southwestern town located an hour north of Albuquerque on I-25.
SantaFe.com provides Santa Fe and visitors to Santa Fe alike with the most current interactive platform for events, music, arts, business, dining, and lifestyle. SantaFe.com is a division of Hutton Broadcasting.
Contact Information:
Hutton Broadcasting/SantaFe.com
2502-C Camino Entrada
Santa Fe, NM 87507
Scott Hutton
http://www.santafe.com
(505) 471-1067
(Media inquiries only, please)
###