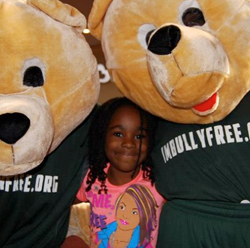 Bullying is a terrible thing. Although it is generally normal among young children, it is definitely something that can be changed
Sugarland, TX (PRWEB) June 01, 2015
J. Thomas & Associates Insurance Agency, in Sugarland, TX, announced the debut of its charity program designed to benefit the local community. The agency will work closely with nonprofit organizations in the area, to nominate a new beneficiary every 30-90 days. The idea is to create a campaign to help the elected individual, family or programs with immediate support by bringing awareness to these very important causes.
To launch the program, Jason Thomas, the agency's principal, has chosen to collaborate with Bully Free. Bully Free is a non-profit organization focused on raising awareness about the negative issues and situations that bullying creates, and has embarked on an effort to bring bullying to an end.
Each new cause showcased by the agency will accompany a detailed full story about the elected cause on a designated donations page. To join J. Thomas & Associates Insurance Agency in supporting the 'Bully Free' program, donors are encouraged to visit the http://jtinsuresyou.com/Help-Us-Keep-Our-Community-Bully-Free_14_community_cause, and share the page with their friends and family through social media and email.
With the continuance of their community strengthening initiative, Jason Thomas takes responsibility for promoting the donations page through many of its channels, including its own database composed of thousands of customers, business partners, staff, neighbors and friends.
The agency also owns a monthly publication, Our Hometown magazine, which reserves a full page to feature the campaign and supported cause. The electronic Flipbook version of the current issue of the magazine can be accessed here: http://jtinsuresyou.com/Our-Hometown-Magazine_39.
More information about the agency's initiative and services can be found at: http://jtinsuresyou.com
About J. Thomas & Associates Insurance Agency
J. Thomas & Associates Insurance Agency provides modern solutions and professional assistance to help you protect your family and achieve your lifelong dreams. Our mission is to maximize your control of your future, helping you be prepared for any obstacles that cross your path. To contact an expert at J. Thomas & Associates Insurance Agency, call 281.277.7533.