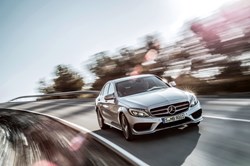 Mercedes C-Class 2015
Stevenage, Hertfordshire, London, UK (PRWEB UK) 20 December 2013
Lighter and roomier
The 2015 Mercedes-Benz C-Class is becoming a grown up saloon. Taking style notes from the S-Class, the new C-Class is giving drivers and passengers more space to stretch out. The wheelbase is extended by 80 mm and the width is also increased. Mercedes C-Class fans will appreciate a larger boot; luggage space is increased to 480 litres. The interior is receiving a few style touches from the S-Class as well.
The new Mercedes-Benz C-Class accomplishes the feat of increased size and lighter weight through the use of more aluminium in the body. While the aluminium reduces the weight, Mercedes has engineered more static and dynamic stability into the 2015 C-Class.
New technology and all the toys
The new generation C-Class will be the first to feature the Mercedes-Benz modular rear-wheel drive architecture (MRA) platform. This will also be the first of the compact saloons that offer an air suspension option. The Direct Steer system will include an agility selection switch. Drivers can choose between Comfort, Eco, Individual and two Sport modes.
Features will include brake energy recuperation, automatic start/stop and Brake Assist Plus with Junction Assist. The Distronic Plus with Steering Assist, a stereo camera adding to collision prevention and self-braking for impact reduction are designed enhance driver and passenger safety. Active Parking Assist and Active Lane Keeping Assist add to the impressive options available.
Comfort is improved with a GPS air conditioning system. Satellite navigation will detect tunnel travel and use automatic air recirculation. Add the head-up display, touchpad command centre, sexy styling and a bolder stance and the 2015 Mercedes-Benz C-Class will have a wide appeal.
Choices of models
The 2015 C-Class will be available as a sedan, estate, coupe or convertible soft-top. Available engines will include a 4.0-litre V8 turbocharged engine with 462 BHP for the AMG coupe, and V6 or four-cylinder versions that range from a C180 1.6-litre with 156 BHP, a C200 2.0-litre turbo at 184 BHP, C250 with 211 BHP, C300 at 252 BHP to a 333 BHP V6 C400 twin turbo.
A 2.2-litre diesel will be available in two power ranges, the C220 CDI with 170 BHP and the C250 with 204 BHP. Hybrid diesel-electric and petrol-electric models are expected after the initial roll out. The majority of models will feature the 4MATIC all-wheel drive. Four-wheel drive and right-hand drive should be available.
For more information on the 2015 Mercedes C-Class, please search L & L Automotive – Mercedes-Benz Hertfordshire.
END
Author: David Newman from Mercedes-Benz Hertfordshire
About Mercedes-Benz Hertfordshire - L & L Automotive
L&L Automotive is the driving force behind a dynamic retail network aimed at enhancing sales and after sales services for the region's existing and prospective Mercedes-Benz, AMG and smart customers.
Encompassing retail outlets in Bishop's Stortford, Hertford and Stevenage, the group is operated by L&L Automotive – a company boasting a lengthy and successful history.
L&L's Mercedes-Benz businesses moved into Hertfordshire in July 2002, when it was selected as one of Daimler UK's key business partners in establishing a revitalised national retail structure.
L&L Automotive. is a company registered in England and Wales with company number 4415393
VAT No. 794 6047 92
Mercedes-Benz of Stevenage : 01438 737800
Mercedes-Benz of Bishops Stortford : 01279 719333
Mercedes-Benz of Hertford : 01992 514444