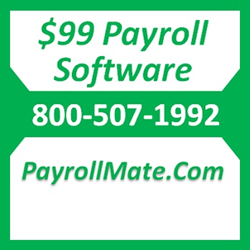 2015 Payroll tax information and software download at PayrollMate.com
Chicago, IL (PRWEB) January 05, 2015
The latest version of Payroll Mate® software (http://www.Payroll-Mate.com / 1-800-507-1992 ) implements the new federal and state income tax withholding instructions, tables, formulas, and charts effective January 1, 2015. Payroll Mate helps employers comply with their obligations under the pay-as-you-earn income tax system. Under that system, employers are required to withhold a portion of their employees' wages and to periodically remit those withheld funds to the IRS and state division of taxation. Payroll Mate calculates and tracks the amount of personal income tax to be withheld from employees' earnings on a weekly, bi-weekly, semimonthly and monthly basis.
Payroll Mate® provides a wealth of features including the ability to automatically calculate net pay, federal income tax withholding (FIT), state income tax (SIT), state unemployment tax (SUTA), state disability insurance (SDI), federal unemployment tax (FUTA), employee / employer OASDI (Social Security portion of the FICA tax) and employee / employer HI (Medicare portion of the FICA tax).
For $99 only, employers can process payroll for up to 10 companies, with up to 75 employees per company for one calendar year. Small business owners and accountants can evaluate Payroll Mate® 2015 risk-free by visiting http://www.Payroll-Mate.com/.
In addition to the IRS, California, Massachusetts, New York, North Carolina and Oregon the following states have updated their 2015 withholding tax tables: Arkansas, Colorado , Connecticut, Washington DC, Idaho, Illinois, Indiana, Kansas, Kentucky, Maine, Maryland, Minnesota, Missouri, New Mexico, North Dakota, Oklahoma, Rhode Island and Vermont .
Payroll Mate supports different types of payroll pay periods, prints payroll checks, prepares payroll forms quarterly 941, yearly FUTA 940, yearly agricultural 943, yearly 944, employee W-2, summary W-3, California DE-9 , California DE-9 C , Florida RT-6, Texas C-3 , Texas C-4, New York NYS-45, Illinois 941 and Illinois UI-3/40. The system allows unlimited tax categories, pre and post-tax deductions and unlimited pay rates per employee making it very flexible and powerful.
Below is a short list of what Payroll Mate can do:
Automatically calculates federal and state payroll tax withholding;
Supports different types of pay periods including weekly, biweekly, semimonthly and monthly;
Unlimited direct deposits by generating ACH direct deposit files;
Supports customizable income, tax and deductions categories;
Exports payroll data to QuickBooks, Sage 50, Peachtree, Quicken and more;
Supports child support and retirement plan deductions;
Supports the following payroll forms: 941, 940, 943, 944, W-2, W-3, California DE-9 , California DE-9 C , Texas C-3 , Texas C-4, New York NYS-45, Illinois 941 and Illinois UI-3/40;
Supports income per mile and per piece;
Generates comprehensive reports;
Prints MICR checks on blank check stock;
Give the Payroll Mate software a test drive and see for yourself how easy managing payroll can be. Visit http://www.Payroll-Mate.com/ .