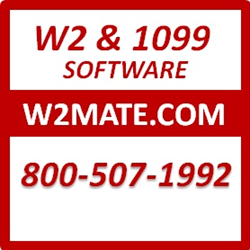 W2 Mate 2014 Software trial can be downloaded by visiting W2Mate.com or by calling 1-800-507-1992
Chcaigo, IL (PRWEB) January 26, 2015
W2 Mate software (http://W2-Mate.com / 1-800-507-1992) has launched 2014 PDF 1099 and W2 creation module for 2014 / 2015 tax season. The updated PDF module includes new vendor 1099 forms for year-end reporting and W2 forms for employee reporting. Employers, businesses and tax professionals can save time and money by emailing PDF 1099 forms to recipients and W2 Forms to employees instead of using paper copies. W2 Mate is offering free trial for users interested in trying the new module.
The PDF W2 / 1099 forms feature available inside W2 Mate makes issuing tax forms as simple as sending email. No forms to print, no envelopes to stuff, no paper cuts, no postage and no headache. Just enter recipient information, generate a PDF file and email.
W2 Mate 2014 Software trial can be downloaded by visiting http://W2-Mate.com/ or by calling 1-800-507-1992
W2 Mate supports PDF creation for the following year-end tax forms: 1099 MISC Forms ( Miscellaneous Income), 1099-INT Forms ( Interest Income), 1099-DIV Forms ( Dividends and Distributions), 1099-R Forms ( Distributions From Pensions, Annuities, Retirement,), 1098-T Forms ( Tuition Statement), W2 Forms ( Wage and Tax Statement), 1099-B Forms ( Proceeds From Broker and Barter Exchange Transactions), 1099-PATR Forms ( Taxable Distributions Received From Cooperatives), 1099-OID Forms ( Original Issue Discount), 1099-S Forms ( Proceeds From Real Estate Transactions), 1098 Forms ( Mortgage Interest Statement), 1099 K(Merchant Card and Third Party Network Payments) , 1099-A Forms ( Acquisition or Abandonment of Secured Property) and 1099-C Forms ( Cancellation of Debt).
Each year, thousands of businesses and accounting firms across the United States trust W2 Mate for high quality, fast, easy, affordable, and above all reliable 1099 filing. The tax forms generated using W2 Mate are government-approved and comply with SSA publication 1141 (General Rules and Specifications for Substitute Forms W-2 and W-3) and IRS publication 1179 (General Rules and Specifications for Substitute Forms 1096, 1098, 1099, 5498, W-2G, and 1042-S).
According to the IRS, any person, including a corporation, partnership, individual, estate, and trust, who make reportable transactions during the calendar year, must file information returns (1098, 1099, 5498, W-2G, or 1042-S) to report those transactions to the government. Persons required to file Information returns to the IRS must also send copies to the recipients of the income. Filers who have 250 or more forms must file these forms electronically through the IRS FIRE System.
W2 Mate Software Highlights:
Supports an unlimited number of 1099 Filers and unlimited number of employees and 1099 recipients;
Fills in pre-printed 1099 Copy-A forms and prints other 1099 copies such as recipient and payer copies on plain paper using black ink;
2014 W2 EFile support (Complies with SSA EFW2 format Specifications for Filing Forms W-2 Electronically) 2014 1099 EFile support (Complies with IRS Publication 1220- Specifications for Filing Form 1099 Electronically) ;
Generates ready-to-email 2014 W-2 forms and 1099 forms Which eliminates the need to print and email W2s and 1099s;
SSA-approved to print W2 and W3 forms on regular paper including government copies ;
Data import from MS Dynamics, Great Plains, Intuit QuickBooks, Sage Peachtree, Sage DacEasy, Excel and CSV Data import from QuickBooks removes the "800 Form" / "$10 Million payroll" maximum limitation;
Efficient and intuitive manual W2 / 1099 data entry;
Supports 1099MISC, 1099K, 1099INT, 1099DIV, 1099R, W2, W3, 1096, 1099S, 1098T, 1098, 1099A, 1099B, 1099C, 1099PATR, 1099OID;
Automatically calculates Social Security and Medicare taxes For paper filers 1096 and W3 are automatically generated;
Supports Windows 8, Windows 7, Windows Vista, Windows XP, Windows Server 2003, Windows 2000 or Windows 98;
Roll-over of payer and recipient information from year to year;
Password protection and data validation;
Generates printing labels, form totals and recipient lists;
Prompt, courteous and reliable US-based support through phone, chat or e-mail;
Network ready with affordable pricing for multiple seats;
Exports W2s and 1099s to excel;
Free downloadable updates;
TIN matching and verification including reports for missing TINs and TIN matching errors;
Supports truncating social security numbers on returns;
Completes 1099 forms electronically;
Auto generates control numbers for W-2 Forms;
Demo software includes sample company with sample 1099 forms filled out
W2 Mate 2014 Software trial can be downloaded by visiting http://W2-Mate.com/ or by calling 1-800-507-1992