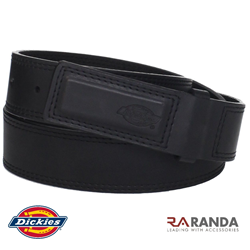 The Dickies Mechanic's Belt is a comfortable, durable and handsome belt that can be worn by everyone.
NEW YORK, NY (PRWEB) September 29, 2015
Imagine a man who has just put the finishing touches on his prized possession, a 1973 Pontiac GTO. He bought it for a song because he read Car and Driver's article, "10 Collectible Classic Muscle Cars You Can Afford." He rebuilt the engine, hunted down original replacement parts, restored the body, and did the metal repair himself. He even approximated the original paint color Burma Brown to go with the Saddle color interior. It has taken two years to come this far and now he's dreaming of winning a prize at the car show. Safely nestled under a car cover in his garage, where everyone he knows and doesn't know has been warned not to touch or experience great pain, sits his masterpiece. He pulls back the cover to admire his handiwork. He sees a smudge on the other side of the hood. He grabs a soft cloth and leans over the hood to gently rub out the smudge. As he moves back and forth with his cloth he suddenly hears the wretched screech, like nails on a chalkboard, of his belt buckle scraping through layers of paint. A simple gesture turns into a disaster. It is something that never would have happened had he been wearing the Mechanics Belt by Dickies, the only name pros trust.
Now, the aforementioned disaster can be averted. Randa, the world's largest belt company, has created for Dickies the ultimate mechanic's belt. Form, function and style come together in the all leather belt, double edge-stitched, with a heat-embossed, Dickies logo leather-covered plaque buckle. Importantly, the belt's metal surfaces are covered in leather – therefore it is scratch and spark resistant.
"The Dickies Mechanic's Belt is a comfortable, durable and handsome belt that can be worn by everyone," says Randa's Vice President of Merchandising and Design Reyes Witt. "True to its name, the belt won't scratch a car's surface or any surface for that matter. Whether it's someone working in the automotive industry or an enthusiastic hobbyist in the off hours, this belt does the job perfectly."
Randa's leadership in the belt market is backed by more than two decades of experience and a fortified position in the end-to-end supply chain. Randa owns the largest belt factory in the Western Hemisphere and facilities in Toronto, Mexico City, London, Como, Johannesburg, Melbourne, and Shanghai. The company's New Orleans distribution center receives processes and ships over 30 million belts each year, alone.
The Dickies Mechanic's Belt is designed with the working man in mind. How a man dresses, no matter what line of work he is in, can say as much about the caliber of the man and his work as it does about his appearance. Blue collar or white collar the lasting impression should be about pride in the work and a job well done. The Mechanic's Belt is a performance-driven men's belt, well-constructed and long lasting with a clean look and classic styling. The inventive, pin-in-hole closure, a quick-release fastener easily put on or unlatched, eliminates the need for an exterior buckle which may scratch and cause damage to vehicles in a car mechanic's work; or as some musician fans have noted, prevents damaging the back of a guitar when playing.
The Dickies Mechanic's Belt, built for pros, built to work, built to last.
######
ABOUT RANDA
More than the world's largest men's accessories company, Randa uses its scale and expertise to create and expand powerful brands, exceptional products and extraordinary shopping experiences. Randa: leading with accessories. Randa produces men's belts, small leather goods, neckwear, luggage, casual bags, jewelry, and seasonal accessories including footwear, hats, gloves, and gifts, bringing these to market through all channels of distribution, worldwide.