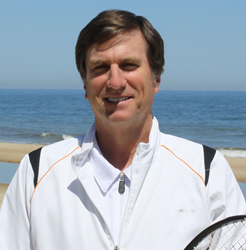 [Johnston] has distinguished himself with growing Sea Colony's overall lesson, clinic, and camp participation levels. This simply cannot happen without a high degree of customer satisfaction, and a strong teaching program.
Bethany Beach, Delaware (PRWEB) January 20, 2015
Sea Colony Tennis Director Thomas Johnston was recently named the United States Tennis Association's Delaware District Pro of the Year.
"This is such an honor," Johnston said. "I'm privileged to make a living in the sport that has been my life-long love. It's so rewarding helping players of all ages and skill levels improve their play and enjoy this game. To be recognized for that … there is nothing better. I want to thank the Sea Colony homeowners, the Sea Colony tennis community and my team of tennis teaching pros for allowing me to share the love of tennis with the thousands of players that hit the courts at Sea Colony on a year round basis."
In the last five years, under Johnston's guidance, Sea Colony has enhanced the resort's reputation as one of the United States' best tennis destinations, including recognition as a USTA Outstanding Facility of the Year in 2012. Most recently, the Bethany Beach-area tennis resort was named the No. 12 tennis camp, and a Top 50 resort, in the world by Tennis Resorts Online, an online publication where rankings are determined by the tennis playing public. In 2012, Tennis listed Sea Colony as one of its Top 50 American Resorts, including No. 3 in the Mid-Atlantic.
With an experienced and talented group of teaching professionals, Sea Colony Tennis offers a wide range of camps, clinics and private instruction to tennis players of all ages and skill levels throughout the year. Following a recent multi-million enhancement project, the resort's tennis facilities now feature 34 tennis courts, including a substantial six indoor court complex, 14 outdoor hard courts and 14 Har-Tru clay courts.
"Thomas' professional performance is exemplary, with customers and staff members acknowledging Mr. Johnston for his outstanding customer service," said Roy Zatcoff, Sea Colony Recreational Association treasurer. "Numerous people have commented on his teaching skills, and have improved their games significantly with his help. He has distinguished himself with growing Sea Colony's overall lesson, clinic, and camp participation levels. This simply cannot happen without a high degree of customer satisfaction, and a strong teaching program."
After a decade-long tenure at Virginia's award-winning Wintergreen Resort, Johnston brought his extensive playing, teaching and coaching experience to the Sea Colony beach and tennis resort. Johnston is a three-time All-American and former head men's coach at the University of Virginia. At UVA, Johnston established himself as one of the most innovative and successful coaches in the country. In 1997, UVA qualified for the national team tournament for the first time in the school's history. The next year, Johnston led the team to the finals of the Atlantic Coast Conference championships and the NCAA Regional championships. Under his leadership, the team's NCAA ranking improved from No. 95 to No. 15. After graduation, several of Johnston's students went on to earn world rankings.
Johnston will be honored at an awards ceremony in Wilmington in January.
Johnston lives in Berlin, MD, with his wife, Maureen and their two children, Robert Alexander and Julianna Marie.
For information on everything tennis at Sea Colony, visit SeaColonyTennis.net, follow Sea Colony on Facebook at Facebook.com/SeaColonyTennis or call the pro shop at 302-539-4488.
About Sea Colony
Selected as a 2012 USTA Outstanding Facility of the Year, Sea Colony has earned additional national and global honors, including being named a 2014 Top 50 resort and the No. 12 tennis camp in the world, by TennisResortsOnline.com, an online publication whose annual rankings are determined by tennis players. Sea Colony was also listed among Tennis magazine's Top 50 American Resorts, including No. 3 in the Mid-Atlantic region.
Known as The Premier Family Beach & Tennis Resort Community, Sea Colony consists of more than 2,200 homes and, in addition to world class tennis, features a wide array of amenities including a private beach, 12 pools (two indoor, plus 7 more for the kids), fitness centers, activities for all ages, in-season community shuttle and year-round security. The Sea Colony Recreational Association, which is responsible for the maintenance and promotion of the community's amenities and common areas, is professionally managed by ResortQuest Delaware.
About ResortQuest Real Estate®, Delaware & Maryland:
ResortQuest Delaware Real Estate, LLC, a subsidiary of Wyndham Vacation Rentals North America, LLC, has provided real estate sales, vacation rental, and homeowner association management services to Bethany Beach, Sea Colony and other fine communities in Delaware's Quiet Resorts, Maryland and the surrounding coastal areas since the early 1970s. Its affiliate ResortQuest Delaware, LLC's homeowner association management division represents the needs of more than 6,200 homeowners in 47 associations from Lewes to Fenwick Island, Del. Wyndham Vacation Rentals®, the world's largest professionally managed vacation rentals business providing access to more than 100,000 vacation rental properties in over 600 unique destinations worldwide, is part of Wyndham Exchange & Rentals® and the Wyndham Worldwide family of brands. For additional information, visit our media center or wyndhamvacationrentals.com.