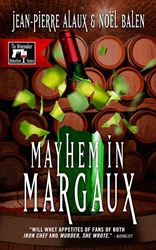 A cozy mystery full of beautiful scenery of France and mouthwatering descriptions of delectable food and wine. A perfect summer read.
New York, New York (PRWEB) May 19, 2015
Mystery and thriller publisher Le French Book just released a new Winemaker Detective mystery, another adventure in a series that "will whet the appetite of fans of both Iron Chef and Murder, She Wrote," according to Booklist.
Reviewers concur that this is "a perfect beach book or why not in the evening on the terrace with a glass of wine." The Winemaker Detective series by Jean-Pierre Alaux and Noël Balen is a "lifestyle" mystery series made of classic wines, old winemaking families and their estates, genteel epicurean drinking and dining, fine cigars and, in this book a luxury vacation destination. Mayhem in Margaux is an amateur detective/cozy mystery, translated by Boulder-based translator Sally Pane, whisks readers away to France for a gentle mystery, and a lot of atmosphere.
Some fine wines hide dirty secrets. It's summer in Bordeaux. There's a heat wave, the vineyards are suffering, vintners are on edge, and wine expert Benjamin Cooker's daughter is visiting. A tragic car accident draws the Winemaker Detective and his assistant Virgile into a case where the stakes are very personal, and they uncover the dirty secrets hiding behind some of Bordeaux's finest grand cru classé wines from Margaux.
Click here to find it at a local bookstore.
Twenty-two books have been published in France in the Winemaker Detective series, which is also a hit television series in its fourth season.
Praise
"A perfect early summer read... Family relations, friendship, murder, vineyards, drought, old cars, cigars, treatment of illegal immigrant workers, attraction, jealousy and wine."
"If you like cozy mysteries, the Winemaker series is ideal for you...The pace of this short novel was perfect, as always...All in all, a delightful summer read."
"A sumptuous, sensual experience of food and wine and story."
"Always descriptive of the scenery, the wine and the food you could almost be there."
"The Winemaker Detective Mystery series is a new obsession."
Books in the series already in English
Treachery in Bordeaux (9781939474025)
Grand Cru Heist (9781939474049)
Nightmare in Burgundy (9781939474056)
Deadly Tasting (9781939474216)
Cognac Conspiracies (9781939474322)
And now:
Mayhem in Margaux
—by Jean-Pierre Alaux and Noël Balen; translated by Sally Pane—published by Le French Book—IISBNs: 9781939474391 (ebook)/ 9781939474384 (trade paperback)/ 9781939474407 (hardcover)—First published in French (Sous la robe de Margaux, Librairie Arthème Fayard, Paris)
About Le French Book
Le French Book is a New York-based publisher specialized in great reads from France, with a growing catalog of top contemporary mysteries and thrillers with a French touch. An IPS publisher.
©2015 Le French Book, Inc. All rights reserved. Information is subject to change without notice.