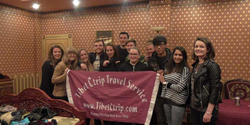 Welcome to sign up a small size Tibet group tour from Tibet Ctrip Travel Service!
Lhasa, Tibet (PRWEB) April 08, 2015
During the 2015 travel season travelers on a budget can now adventure beyond Lhasa with small group Tibet tours by Tibet Ctrip Travel Service-TCTS (http://www.tibetctrip.com). Saving money doesn't have to mean sacrificing all the flexibility and authenticity of a private tour; with tours running from 5 to 14 days, TCTS aims not only to help travelers see Tibet's fantastic sights but also to walk away with valuable knowledge of its culture and history. These are among the most popular itineraries:

Lhasa-Namtso: This 5 day tour is great for those looking to enjoy an introduction to Tibetan culture along with an opportunity to get away from the hustle and bustle of Lhasa, before moving on to their next travel destination. After exploring Lhasa the group will take a day trip to Lake Namtso and have the opportunity to soak in Yangpachen Geothermal Spring.
Lhasa-Namtso-Gyantse-Shigatse: Building off of the Lhasa-Namtso tour, TCTS organizes budget Tibet travel tours that, over 7 days, explore Lhasa, visit Lake Namtso, and also spent time in Gyantse and Shigatse. In Gyantse travel groups will visit Pelkhor Monastery and Kumbum Pagoda, filled with magnificent Tibet Buddhist art. The tour spends the night in Shigatse and makes a stop at Tashilhunpo Monastery.
Kailash-Manasarovar: This extended adventure spans 14 days and is ideal for travelers heading to Nepal after Tibet. It begins in Lhasa and makes it all the way to Mt. Kailash, located in Tibet's westernmost region of Ngari. On the way to Kailash travelers will visit Gyantse, Shigatse, and Lake Manasarovar. Those looking for an in depth experience need look no further.
Native Tibetans who are passionate about sharing where they come from guide tours of Tibet by TCTS. With a group size of 8 people or less travelers can save on costs while still having ample opportunity to ask questions and learn from their guide. The 2015 travel season is right around the corner so now is the time to start planning!
Learn more about Tibet group tours: http://www.tibetctrip.com/group-tours.html