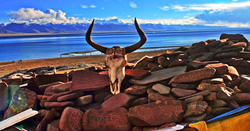 Welcome to travel to Tibet in 2015 with local Tibet travel agency!
Lhasa (PRWEB) January 28, 2015
Tibet travel permits are required documents for all foreign travelers entering Tibet; they must be presented when arriving overland and at train stations and airports. According to the latest permit policy update travelers can begin booking tours with a start date of April 5th 2015 or later. A licensed travel agency must obtain all permits; just supply the required documents and they'll take care of the rest. Tibet Ctrip Travel Service-TCTS (http://www.tibetctrip.com) has been operating in Tibet for over 10 years and shares the information travelers need to help ensure a hassle free experience.

First, all members of the group must obtain a Chinese visa and possess a passport valid for at least 6 months. It will be necessary to submit copies of both these to TCTS at least 10 days before the tour start date. If coming from Nepal TCTS will help travelers obtain a Tibet group visa (this will be necessary even if they have an existing Chinese visa). Travelers are asked to make sure that any information provided to TCTS matches information on their passports.
TCTS will also ask for travelers' occupations. Journalists, military members, foreign diplomats and other individuals involved in political activities may need special permission to tour Tibet.
If arriving overland from Nepal, the group's guide will meet them at the border with the permit. If the group is arriving from Mainland China they will need to provide an address (such as a hotel) for the permit to be mailed. This necessitates that travelers stay at least one night in China before coming to Tibet.
Obtaining a Tibet travel permit is relatively straightforward; just provide the required information along with copies of passports and visas, a licensed travel agency will take care of the rest. Please be aware that permit policies may change with little advanced notice; TCTS will help re-accommodate affected travelers' tour itineraries. With the 2015 Tibet travel season coming up quickly it's time to start tour planning!