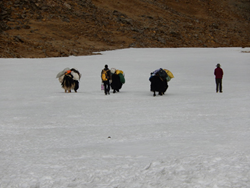 Welcome to trek Tibet with Tibet Ctrip Travel Service in Lhasa!
Lhasa, Tibet (PRWEB) July 18, 2015
When it comes to Tibet travel there is no shortage of opportunities for inspiring adventure. During 2015, Tibet Ctrip Travel Service-TCTS has been helping travelers plan exciting journeys with a new lineup of adventure tours. Those who visit Tibet seeking some one-on-one time with himalayan scenery will discover that there are a variety of tours available, each offering a different kind of experience. To get travelers started, Tibet Ctrip (http://www.tibetctrip.com) discusses some of the latest additions to their lineup of adventure tours.
Tsurphu to Yangpachen Trek: With magnificent scenery and cultural experiences wrapped up into one adventure, those looking to walk away with valuable knowledge of Tibet and its history are well suited for this journey. The trek lasts three days with a monastery visit at each end and concludes with an opportunity for trekkers to soak their worn out bodies in Yangpachen Hot Spring.
Lhasa-Kathmandu Biking tour: Hard core mountain bikers will experience a challenge of a lifetime along this route. There are 12-13 days of biking along with time for visiting some of Tibet's most famous sites on this 21 days tour of Tibet.
Khangsung Face of Everest Trek: Another 21 day tour, travelers will enjoy views of Everest's North and East face over 9 days of trekking; a much more challenging and in depth experience compared to the 4-day trek to Everest base camp.
Opportunities for adventure abound while traveling in Tibet! September-early October brings hospitable temperatures and lower chances of cloudy weather, making for excellent views of the Himalayas and unforgettable experiences. With the fall 2015 travel season coming up quickly now is the time to start planning to book a tour of Tibet with local Tibet travel agency.