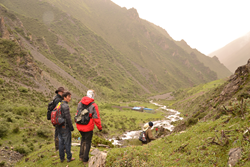 What and how to buy when travelling in Tibet?
Lhasa, Tibet (PRWEB) March 26, 2015
As travel groups around the world gear up for their 2015 tour of Tibet many will find that browsing through crowded markets like Barkhor Bazaar and haggling over unique souvenirs is an exciting experience. In Tibet, travelers can find everything from prayer flags and incense to intricate handmade jewelry and Tibetan carpets. Tibet Ctrip Travel Service-TCTS (http://www.tibetctrip.com) wants travelers to find the perfect souvenir and gives their advice for tracking it down.
Where to shop: While authentic Tibetan goods can be found all over the must-see shopping attraction is Barkhor Bazaar. It's easy to spend hours wandering the alleyways packed with shops and vendor stalls that cater to tourists and locals alike; not only is it a good place to shop but also is a good place to see every day life.
Most popular things to buy: On a Tibet tour most visitors like to buy prayers flags, incense, and other small items that are cheap and easy to pack. Travelers coming with some extra cash and space in their luggage can find good bargains on valuable items such as rugs and handmade jewelry. Not sure where to look or what a good price looks like? Be sure to ask the group's guide.
How to haggle: Prices are often unmarked and negotiable. Even if the price is marked, chances are it's still negotiable! Haggling is a normal business practice in Tibet and is just as much fun for the seller as it is for the buyer. If the seller is unwilling to budge don't be afraid to walk away but do keep in mind that a few RMB probably means a lot more to the average shopkeeper than it does most visitors.
Navigating through crowded markets hunting down the right souvenir and haggling for the price is a far cry from the shopping experience of many popular destinations. It's a fun experience and a great way to interact with local Tibetans. While travelling in Tibet, be sure to support the Tibetan community by purchasing from Tibetan owned shops; they tend to provide better quality for a better price. With the travel season coming up soon now is the time to start planning an adventure!
Tibet Ctrip Travel Service, TCTS is local Tibet travel agency which is specialized in tailor-made tours of Tibet for overseas travelers. .