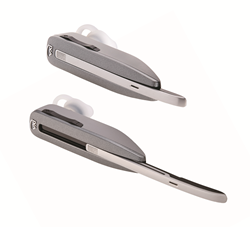 It's a chance for us to see the latest and greatest products from partners, while giving us an opportunity to show potential new partners how VXi can deliver superior value to them and for their customers.
Dover, N.H. (PRWEB) March 02, 2015
VXi Corporation, the world's fastest-growing headset company, will be exhibiting its hands-free innovations in Booth 1040 at the 25th annual Enterprise Connect Conference and Expo in Orlando, Florida, March 16-19, 2015. The theme of this year's event is "Communications and Collaboration Transforming Business," which makes it the ideal venue to showcase VXi's products. By enabling people to connect, communicate and collaborate clearly, VXi's advanced technology delivers the kind of proven business advantages—from improved customer satisfaction to increased revenue—that attendees are looking for.
The Proof Is in the Products
Built upon the best sound quality in the business, VXi's products are designed to boost business productivity and effectiveness. The VXi UC ProSet LUX™, for example, the first and only headset with a built-in Visual Presence™ indicator, is the only headset to win a 2014 INTERNET TELEPHONY Lync Pioneer Award. Designed around established UC standards, the UC ProSet LUX minimizes unwanted (and unproductive) interruptions by letting others know when you're on a call.
The groundbreaking VXi VoxStar™ UC—the only headset with both 93% noise cancellation and a 5-dragon rating from Nuance—is a perfect companion for Dragon Naturally Speaking software, and it's the one headset that allows users to communicate clearly with both PCs and mobile phones.
Also featured at this year's Expo is the all-new VXi BlueParrott® Reveal™, the first headset to solve the "form vs. function" dilemma that's all-too-familiar to users of small Bluetooth headsets. Reveal's ingenious extendable mic boom can stay retracted when noise is low to moderate. When life gets louder, just slide the boom out for 91% noise-canceling effectiveness—and significantly more productive calls.
To help businesses communicate and collaborate takes more than an amazing array of products. VXi has also partnered with a who's who of communication giants, including Avaya, Cisco and Polycom, extending the transformative power of their products to a massive installed base. Interoperability-tested, VXi's partner-proven products help customers maximize their systems' potential, and improve communications and reliability, while delivering true value to their company's bottom line.
"Enterprise Connect gives us an opportunity to keep our finger on the pulse of the ever-changing world of communication," said Mike Ferguson VXi's president and CEO. "It's a chance for us to see the latest and greatest products from partners, while giving us an opportunity to show potential new partners how VXi can deliver superior value to them and for their customers."
Come see how VXi is transforming business at the Enterprise Connect Conference and Expo, Booth 1040.
About VXi Corporation
VXi provides the best-performing headsets, telecommunications and speech recognition solutions for the benefit of mobile professionals, small and large businesses, and contact centers around the world. From Bluetooth® to Unified Communications, they meet the highest global standards for product quality and service, backed by the industry's best warranties. VXi designs, markets, sells and supports their products from Dover, New Hampshire, and takes pride in delivering value, excellence and innovation. That is why VXi is The Sound Choice™. Learn more at http://www.vxicorp.com.
About Enterprise Connect
Enterprise Connect® is the leading conference and exhibition for enterprise IP Telephony, Converged Networks and Unified Communications in North America. Enterprise Connect brings corporate IT decision makers together with the industry's vendors, analysts and consultants to focus on the issues central to enterprise networks and communications. Enterprise Connect owns and produces No Jitter, providing daily blogging and analysis of enterprise communications, and it also serves the community with a weekly email newsletter, a Webinar Series and Virtual Events. For more information, visit http://www.enterpriseconnect.com.