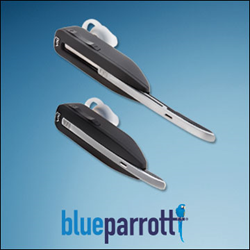 The VXi BlueParrott Xplorer is the right solution available for people who want both a compact headset and excellent sound quality.
Dover, N.H. (PRWEB) March 09, 2015
VXi Corporation introduced the VXi BlueParrott® Xplorer™ today, the Bluetooth® headset with an extendable microphone boom. Designed specifically for rugged professionals, the Xplorer is the first headset to deliver both a small form factor and VXi's signature noise-canceling effectiveness.
THE LONG AND THE SHORT OF IT
Many Bluetooth headset users prefer small, often boomless devices—in spite of the fact that they typically fall far short in terms of microphone noise canceling and sound quality. So VXi looked for a way to satisfy consumer preference, without sacrificing sound quality. Xplorer is that best-of-both-worlds solution: a smaller Bluetooth headset with an ingenious, extendable boom. When ambient noise is low to moderate, users can leave the boom in its retracted position, and still enjoy exceptional noise canceling. When life gets loud, they simply slide Xplorer's boom out (about 1 inch). By putting the microphone closer to the user's mouth, the extendable boom makes it possible for Xplorer to remove as much as 90% of background noise while maintaining great sound quality.
SMALL PACKAGE, BIG BENEFITS
The compact Xplorer also features a black, rubberized coating for easy handling and improved roadworthiness. Fully charged (via USB), Xplorer gives users 7 hours of talk time. It also features Near Field Communications (NFC), so it pairs with just a touch. It can be used with two Bluetooth devices at the same time; and stream music, GPS directions and more. And the Xplorer package includes a carrying case, USB cable, car charger and a choice of earbuds and earhooks.
"The VXi BlueParrott Xplorer is the right solution available for people who want both a compact headset and excellent sound quality," said Mike Ferguson, VXi's president and CEO. "Our exclusive extendable mic boom is a simple enough idea, but the design and engineering involved was anything but simple. The Xplorer addresses users' needs, and demonstrates the lengths VXi will go to for the very best sound in the headset business."
The Xplorer is available now, at TA, Pilot, Love's, Petro and Flying J travel centers. For more information, visit the Xplorer page on the company's website.
ABOUT VXI CORPORATION
VXi provides the best-performing headsets, telecommunications and speech recognition solutions for the benefit of mobile professionals, small and large businesses, and contact centers around the world. From Bluetooth® to Unified Communications, they meet the highest global standards for product quality and service, backed by the industry's best warranties. VXi designs, markets, sells and supports their products from Dover, New Hampshire, and takes pride in delivering value, excellence and innovation. That is why VXi is The Sound Choice™. Learn more at http://www.vxicorp.com.