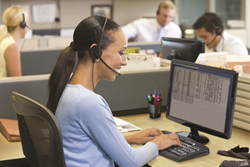 "We have a lot to offer today's contact center … With VXi, customers get more options and better tools to improve communication and reliability."
Dover, N.H. (PRWEB) June 15, 2015
VXi Corporation, an industry leader in contact center headsets, is bringing its full line of CC-centric products to this year's Call Center Week at The Mirage in Las Vegas, June 15-19. VXi will be showcasing their comprehensive contact center product line at Booth #908, spotlighting the dramatic productivity difference their better-sounding headsets can make, and how the proper management of a contact center's culture can increase the likelihood of business success.
HAVE YOU HEARD THE CALL?
For VXi, it all starts with sound quality. And every product in their call center-centric line is built on that foundation. Take the CC Pro™, for example. Designed to deliver the best of everything—including value—the VXi CC Pro starts with vastly superior noise canceling. CC Pro's noise-canceling microphone cuts nearly 90% of background noise, to ensure users and customers are heard clearly. Its wideband audio makes it easy to understand every word. And CC Pro is as easy and comfortable to wear as it is to afford.
For true high performance that's also UC-ready, the VXi UC ProSet™ delivers the kind of productivity and value VXi is known for. VXi will also feature a full complement of USB products, including the VXi Envoy™ UC. Its best-in-class sound quality enables users to make the most of every communication option—from VoIP to video conferencing to speech recognition.
THE INS AND OUTS OF CALL CENTER SUCCESS
VXi doesn't just offer the products necessary to run a successful contact center. They can also supply the information needed to make smart management choices. At Call Center Week, VXi will also be making a valuable white paper available, "10 Considerations for Successful Cultural Shifts in the Contact Center." This white paper examines how proactive management of a contact center's culture can maximize profitability, increase loyalty and repurchase rates while reducing costs.
In addition, VXi is distributing the results of a study conducted by Vidal Consulting Group at a retailer's 500+ seat inbound contact center. Designed to identify the effect of superior noise-canceling headsets on contact center performance, this study shows how better-sounding headsets can improve agent engagement, customer satisfaction—and revenue.
"We have a lot to offer today's contact center," said Mike Ferguson, president and CEO of VXi. "Call Center Week is the perfect place to get the word out. With VXi, customers get more options and better tools to improve communication and reliability. As always, VXi also delivers true bottom line value, as well as a distinct competitive advantage."
To learn more about how VXi's advanced technology can make a difference in any contact center, visit Booth #908 at Call Center Week, or go to the company's Contact Center Solutions page.
ABOUT VXI CORPORATION
VXi provides the best-performing headsets, telecommunications and speech recognition solutions for the benefit of mobile professionals, small and large businesses, and contact centers around the world. From Bluetooth® to Unified Communications, they meet the highest global standards for product quality and service, backed by the industry's best warranties. VXi designs, markets, sells and supports their products from Dover, New Hampshire, and takes pride in delivering value, excellence and innovation. That is why VXi is The Sound Choice™. Learn more at vxicorp.com.