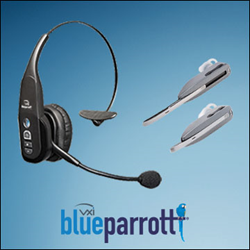 CTIA Super Mobility 2015 is the perfect opportunity for us to connect with the leaders and innovators in mobile.
Dover, New Hampshire (PRWEB) August 27, 2015
VXi Corporation announced it will be showcasing its ever-popular VXi BlueParrott® headset line at CTIA Super Mobility 2015. Two of the company's latest Bluetooth® breakthroughs, the VXi BlueParrott Reveal and B350-XT, will be in the spotlight from September 9-11 in Booth #1771 at the Sands Expo and Convention Center in Las Vegas, Nevada. The company is also expected to introduce the newest addition to the BlueParrott family at the show.
The Reveal: One Little Inch Makes a Big Difference
The Bluetooth headsets of choice for many users are those short, often boomless devices that just don't sound very good. VXi, the headset company that built its reputation on sound quality, knew there had to be a better way. So, they devised a clever solution: the Reveal, a smaller Bluetooth headset with an extendable microphone boom. When ambient noise is low to moderate, leave the boom in its retracted position, and enjoy excellent noise canceling. When life gets really loud, simply slide the boom out. This puts Reveal's microphone about an inch closer to the user's mouth, for exceptional sound quality and a 90% reduction in unwanted noise.
The B350-XT: Loud and Clear—and Customizable
The VXi BlueParrott B350-XT delivers clear, natural-sounding voice transmission, even in extremely high-noise environments. No other Bluetooth headset in the industry offers its combination of high-performance noise canceling and intelligibility—ensuring that users are both heard and understood. No matter where they go. But what really sets the B350-XT apart is its exclusive Parrott Button™. Easily customized on the go with VXi's free BlueParrott Push-to-Talk App, the Parrott Button can be set to perform a range of functions. By letting customers choose the function they need, the B350-XT puts more functionality at their fingertips—and helps them keep their hands on the wheel.
"CTIA Super Mobility 2015 is the perfect opportunity for us to connect with the leaders and innovators in mobile," said Mike Ferguson, president and CEO of VXi. "It's a great venue for us to build relationships with thousands of decision-makers all in one place, all of whom need to know about the many sound quality advantages that VXi has to offer."
"We're pleased VXi Corporation chose to exhibit at CTIA Super Mobility 2015 as we continue to challenge the 'conventional' trade show by making it more compelling and interactive," said Robert Mesirow, vice president and show director of CTIA Super Mobility 2015. "VXi understands that CTIA Super Mobility 2015 does something no other show does: it brings together the ENTIRE mobile ecosystem under one roof."
About VXi Corporation
VXi provides the best-performing headsets, telecommunications and speech recognition solutions for the benefit of mobile professionals, small and large businesses, and contact centers around the world. From Bluetooth® to Unified Communications, they meet the highest global standards for product quality and service, backed by the industry's best warranties. VXi designs, markets, sells and supports their products from Dover, New Hampshire, and takes pride in delivering value, excellence and innovation. That is why VXi is The Sound Choice™. Learn more at vxicorp.com.
About CTIA Super Mobility 2015
CTIA Super Mobility 2015 is the largest forum in the Western Hemisphere for the mobile innovations that power our connected life. More than 35,000 mobile professionals and executives and 1,100+ exhibitors from around the globe gather for this powerhouse technology event for its unrivaled networking opportunities and to share leading-edge trends, discoveries and knowledge. CTIA Super Mobility 2015 is held September 9, 10 & 11, 2015, at the Sands Expo and Convention Center in Las Vegas.