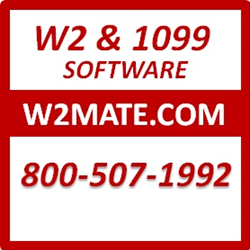 Free W2 Software trial is available at W2Mate.com .
Chicago, IL (PRWEB) January 01, 2015
Real Business Solutions (http://www.W2-Mate.com/) recently released their 2014 W2 Mate software which helps employers and payroll departments meet the Social Security Administration and Internal Revenue Service requirements for filing W-2 / W-3 tax forms on paper and electronically.
2014 W2 Mate® saves users time and money by printing an unlimited number of W-2 and W-3 forms on regular white paper. This eliminates the need to buy expensive laser red-ink forms. W2 Mate does not impose any limitations on the number of forms, employees, companies, employers or filers.
W2 Mate also generates an unlimited number of secure PDF W2 forms for an unlimited number of employers for one low fee. W2 Mate offers a high-quality W2 filing system while remaining one of the most competitively priced and easy-to-use software applications in the market. Free W2 Software trial can be downloaded from W2 Mate's website by visiting http://W2-Mate.com/download-1099-filing-software/ . Business Filers can purchase the W2 software and receive it instantly.
Once W2s are in PDF format, filers can use the batch email utility integrated inside W2 Mate to deliver the 2014 tax forms to employees electronically. W2 Mate can send thousands of emails with a click of a button.
W2 Mate prints all W2 copies on white paper including W2 laser Copy A (for Social Security Administration), laser W-3 form (Transmittal of Wage and Tax Statements), W2 Copy B (To Be Filed With Employee's FEDERAL Tax Return), W2 Copy C (For EMPLOYEE'S RECORDS), W2 Copy D (For Employer), W2 Copy 1 (For State, City, or Local Tax Department) and W2 Copy 2 ( To Be Filed With Employee's State, City, or Local Income Tax Return).
W2 Mate Software Highlights:
Prepares unlimited number of 2014 W2 and 1099 forms for multiple employers and payers;
Prints 2014 1099 recipient copies on regular white paper;
Unlimited 2014 1099 E filing using IRS FIRE System (No per form fees and No data transmission charges)Unlimited 2014 W2 electronic filing submissions using the EFW2 format;
Creates 2014 employee W2's as PDF and recipient (vendor) 1099's as PDF;
SSA approved to print W2 & W3 forms on regular white paper, which eliminates the need for expensive forms ;
Imports data from Intuit QuickBooks (QuickBooks Pro, QuickBooks Enterprise, and QuickBooks Premier), Microsoft Dynamics (GP or SL), Sage Peachtree, Sage DacEasy or CSV/ Excel;
Efficient and intuitive manual W2 / 1099 data entry;
Supports 1099MISC, 1099K, 1099INT, 1099DIV, 1099R, W2, W3, 1096, 1099S, 1098T, 1098, 1099A, 1099B, 1099C, 1099PATR, 1099OID;
Automatically calculates Social Security and Medicare taxes For paper filers 1096 and W3 are automatically generated;
Supports Windows 8, Windows 7, Windows Vista, Windows XP, Windows Server 2003, Windows 2000 or Windows 98;
Roll-over of payer and recipient information from year to year;
Password protection and data validation;
Generates printing labels, form totals and recipient lists;
Prompt, courteous and reliable US-based support through phone, chat or e-mail;
Network ready with affordable pricing for multiple seats;
Exports W2s and 1099s to excel;
Data Backup and restore;
TIN matching and verification including reports for missing TINs and TIN matching errors;
Built-in links to form instructions and websites for the IRS, SSA and government tax agencies;
Prepares 1099s for a contract workers;
Helps filers comply with state 1099 filing requirements;
Helps filers meet 1096 and W3 due dates for 2014
A free 2014 W2 printing and PDF software evaluation can be downloaded from http://www.W2-Mate.com . Customers can purchase the software and receive it instantly.