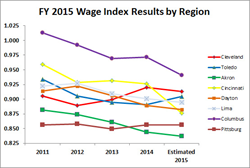 Cleveland, Ohio (PRWEB) April 21, 2014
Reimbursement Forum members were presented with the preliminary fiscal year (FY) 2015 wage index results at their March 20 meeting where they learned that Northeast Ohio hospitals can expect $7.1 million in additional reimbursement thanks to The Center's wage index project. For months, The Center for Health Affairs and its contracted wage index experts from the Reimbursement Alliance Group have been working with the region's hospitals on a project to maximize wage index; preliminary results suggest these efforts have truly paid off.
As a result of this year's project, the wage index factor in Northeast Ohio is expected to be 0.9129 in FY 2015. Prior to work on the project, wage index factor was projected to be 0.9073, a change that while numerically small, adds up to millions of dollars in Medicare reimbursement. To be sure, these extra dollars are important to member hospitals, but they only tell part of the story. What isn't captured in the $7.1 million is the impact the FY 2015 wage index results will have on Medicare Advantage, which – if included – would increase the impact by an estimated 30 to 35 percent.
The Center's wage index project and its member hospitals' careful attention to accurate reporting to the Centers for Medicare and Medicaid Services has helped Cleveland area hospitals maintain a wage index that is higher than most of the other regions in the state for the second year in a row.
The FY 2015 wage index results were slightly lower than the results in FY 2014, declining from 0.9202 to 0.9129. Though the results are still preliminary, they are not expected to change dramatically and the slight decrease is likely to stand.
"Wages in the state have just not gone up the way they have in other regions," explained Rick Kolaska, principal of Reimbursement Alliance Group. "Other factors can play a role, too, which makes it very important for hospitals to submit very high-quality data to CMS, but at the end of the day, if the region's wages aren't going up, then wage index won't go up either."
Wage index is a factor used by the Centers for Medicare and Medicaid Services to account for regional differences in the cost of wages in the Medicare reimbursement formula. The wage index assigned to a region by CMS can have a significant impact on the level of reimbursement that region receives for Medicare patients, which is why it is so important for Northeast Ohio hospitals to regularly review the data used to derive the wage index and present it to CMS as advantageously as possible.
For more information on the FY 2015 wage index results, please contact Lisa Anderson at 216.255.3660 or via email or George Jeney at 216.255.3666 or via email.
###
As the leading advocate for Northeast Ohio hospitals, The Center for Health Affairs provides members with vital services and resources aimed at enhancing the region's healthcare community. The Center delivers on this goal by focusing its efforts on areas that benefit from a regional approach: Healthcare Workforce; Emergency Preparedness; Public Policy & Advocacy; Finance & Reimbursement; and Community Initiatives. With a rich history as the Northeast Ohio hospital association, dating back to 1916, The Center serves as the collective voice of hospitals and the source for Northeast Ohio hospital and healthcare information. As leaders, we continuously scan the periphery, looking for opportunities to enhance the region's workforce, better prepare our hospitals for an emergency, and increase the region's wage index. And because of our business affiliation with CHAMPS Healthcare, we have the resources to provide a broad level of professional services to our members. The Center, located in downtown Cleveland, is proud to advocate on behalf of 38 acute-care hospitals and two long-term acute-care hospitals in six counties. For more, visit chanet.org.