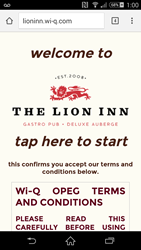 Wi-Q is different because it is an integrated HTML software solution that, unlike an app, can be used on any Wi-Fi enabled device. The customer can order and pay for their food and drinks at the table without having to wait or queue
Essex, United Kingdom (PRWEB UK) 20 July 2015
Just some of the hospitality venues to introduce Wi-Q to customers include one of the south-East's most popular eateries, the Lion Inn Restaurant, Hotel & Bar. As part of its plan to enhance the customer experience, the Lion Inn has joined major UK brands including Gordon's Wine and PWC and introduced Wi-Q to the menu; a from-the-table online ordering system that aims to ease the great British tradition of queuing.
Whether you view the innovative, queue-busting solution of Wi-Q from a customer's or a restaurateur's perspective, you can't help but realise that this is the future for easy ordering and payment, and it is available now. Wi-Q is the brainchild of Graham Cornhill, whose UK-based company is ready to change the hospitality, catering and customer-facing industries forever.
"Wi-Q is different because it is an integrated HTML software solution that, unlike an app, can be used on any Wi-Fi enabled device," explains Graham. "The customer can order their food and drinks at the table, and pay for them without queuing, which obviously improves their customer experience. The benefits for the establishment include improved sales, quicker customer turnaround and reduced tasks for staff. Controlled from a secure central portal that can be integrated with any existing EPoS or Apps, or offered as a standalone solution, Wi-Q is branded and tailored to the individual restaurateur's needs, and has the functionality and flexibility to evolve alongside the business. While we have aimed our initial launch at the hospitality industry, Wi-Q can be integrated into any merchandising setting, and we envisage our technology will revolutionise the whole of the retail industry."
John Gowing, part of the management team at the Lion Inn restaurant hotel and bar, who cater for between 400 and 1000 covers per day says, "we are incredibly busy, seven days a week and often customers can experience queuing at the order point having already patiently waited over an hour for a table. When we were considering our options for a digital solution to improve the customer experience, we decided we didn't want the user restrictions of an app."
"Having Wi-Q enables every customer to browse the menu and complete their order at the touch of a button from any mobile device without having to leave their table. It's a really simple solution that has wide-ranging benefits, from its ease of use, to allergy-specific ordering and of course ending the need to queue at the ordering point. We are getting brilliant feedback from users, so if the customers are happy then we are delighted."
The unique Wi-Q ordering solution aims to increase sales and make long queues a thing of the past. Wi-Q is available now as a revenue-based SaaS model from as little as £1.47 per day, with minimal capital investment. For more information about Wi-Q visit http://www.wi-q.com and for further details of The Lion Inn visit http://www.lioninnhotel.co.uk
Wi-Q Editor's Notes
Wi-Q is a revolutionary software company founded by a stakeholder group including Essex-based multi-millionaire entrepreneur Graham Cornhill, who recognised a gap in the market to help shoppers with their purchases and ultimately put them at the heart of the sales process. The resulting technology, also called Wi-Q, has initially been aimed at the hospitality industry, but has the scope to be rolled out across any retail outlet, and is the world-leading integrated HTML software solution that is set to revolutionise the hospitality industry by placing the menu and ordering capability in the customers' hands. Accessed via an establishment's Wi-Fi, rather than being a device- restrictive app, Wi-Q can be accessed using any Wi-Fi enabled device. The customer can select from the easy to update menu, place their order, make further purchases (think dessert or second cup of coffee), request a bill or pay for their order, all from the comfort of their seat, using their chosen device and without having to queue. Wi-Q may be a relatively new concept, but the wealth of experience and vision of the company's Directors, and the interest it has already sparked in the hospitality industry will guarantee its success, and put the future of queuing as a British institution in jeopardy.