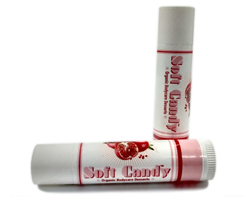 "It's Kinky Good"
New York, New York (PRWEB) March 02, 2015
Tyrone Christopher, Co-founder of Soft Candy Cosmetics and Publisher of Idoll Magazine, a medium for the model agency industry, have launched Softcandy.sexy, an online destination, where patrons can find, and buy Mango, Passion Fruit, Pink Grapefruit, Pomegranate, and or Vanilla flavored organic lip balms, Tuesday, March 3rd, 2015, after 1pm.
At a cost of alienating a few potential patrons, Soft Candy Cosmetics has recently came under fire by announcing the brands commitment and support of a Fine Art Nude - Photography Exhibition, for the Anti-Slut Shaming Campaign. For the unaware, slut-shaming happens when a person "publicly or privately [insults] a woman because she expressed her sexuality in a way that does not conform with patriarchal expectations for women." It's "about the implication that if a woman has sex that traditional society disapproves of, she should feel guilty and inferior."
This is an art exhibition where exhibitors are encouraged to illustrate women sexually empowered. Images ranging from women advocating sex on their terms, or as the aggressor in a non - patriarchal environment, to images of female pimps overruling male sluts and more. Patrons in attendance are offered complimentary Soft Candy lip balms and hand lotions. This event is TBA. Check Softcandy.sexy for details and updates.
Soft Candy Cosmetics began late 2014, with a few organic flavored lip balm products. At the time, all lip balm items, were offered as gifts to constituents and notable inhabitants working inside the model agency industry.
Currently, the Soft Candy brand is in development on an organic 'whole fruit' based line of bodycare and cosmetic products. Patrons can look for new Soft Candy items on sell at http://softcandy.sexy/ and or at your local organic retail outposts. For all other inquires, check softcandy.sexy
Soft Candy is truly an organic based brand. Ingredients such as Aluminum, Petrolatum, Mineral Oil, Paraffin, Paraffin Oil, Paraffin Wax, Sodium Lauryl Sulphate (SLS), Ammonium Lauryl Sulphate, and Dibutyl phthalate (DBP), are toxic, posses the ability to cause various health issues and is not found in Soft Candy products. In fact, there are no mineral oils, petrochemical derivatives, synthetic dyes and or animal testing used in Soft Candy Cosmetic products.
Consumers can purchase Soft Candy products at http://softcandy.sexy or see Soft Candy products across North American shelves, Summer 2015. For distribution, retail, and or product review inquires, please contact us at info(at)softcandy(dot)sexy