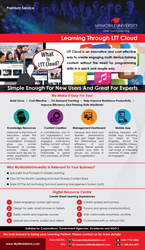 "We now accept the fact that learning is a lifelong process of keeping abreast of change. And the most pressing task is to teach people how to learn." Peter Drucker
Washington, DC (PRWEB) December 31, 2014
MyMobileUniversity is a global initiative to impact lives through education by LTT Global, an award winning mobile and web based learning company that has been pioneering learning on the go for the last 10 years.
LTTCloud, MyMobileUniversity's premium service brings world class course programs by subject matter experts to share their expertise to organizations globally as noted by Mr. Wemel Cumavoo, Co-founder and CEO of MyMobileUniversity.
The objectives of MyMobileUniversity are to invite subject matter experts to use the LTTCloud platform to reach out and share their expertise with the global community.
The University provides value for both the subject matter experts and the organizations they participate in to implement a lifelong learning strategy for their workforce and community. Lifelong Learning is a necessity and no longer an option to keep pace with globalization workplace challenges. (http://www.MyMobileUni.mobi)
Dr. Lawrence Wasserman, Vice President of Strategic Alliance at MyMobileUniversity said, "It is a cost-effective way for Subject Matter Experts to put their content out there or to create new engaging multi-device training content without the need for programming skills on this platform. Furthermore, it comes together with a Learning Management System that keeps track of user's performance."
Globally professionals and businesses have to remain relevant in their pursuit of success and to remain competitive. MyMobileUniversity's, LTTCloud is a premium service for organizations to offer learning-on-the-go that is crucial to their success by providing them with scalable and online learning solutions.
Our goals include:

To improve people performance
To power human capital development
To create knowledge based society
Our platform is mobile and web based. It is accessible on a multitude of devices, including PCs, laptops, tablets, ipads, mobile phones that are connected to the internet.
MyMobileUniversity recognizes that its not just about the delivery of education to communities, but about the delivery of the right quality of education that will impact lives. Studies show that organizations that encourage staff to continue learning have seen a boost in employee morale. Providing continuing education is way to solidify employee loyalty and increase productivity. Companies who share this strategy have grown significantly with increase staff skills as compared to other companies productivity.
MyMobileUnversity has customized packages for government agencies, private sector, academia and NGOs' to meet the needs of their community and meet the challenges of globalization.
Today, we offer LTTCloud Services for new users and for subject matter experts. LTTCloud is now available for your organization go to http://www.mymobileuni.mobi
For more information please email to founders(at)MyMobileUni(dot)com
For More Information Please Contact:
Corporate HQ
Rani Wemel,
Co-Founder/COO
Email: founders(at)MyMobileUni(dot)com
Dr Lawrence Wasserman,
Vice President, Strategic Alliances
dr.lawrence(at)MyMobileUni(dot)com | wfuture(at)hotmail(dot)com
Tel (O): +1 301.424.1383 | Fax: +1 301.424 1383
http://www.LTTCOM.com |http://www.MyMobileUni.com
Cell +1 240.462.3471 | Skype: galaxy139 |Twitter: FORTECH139