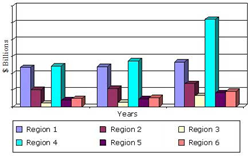 Global Market for Commercial and Residential HVAC Systems to Reach $116.6 Billion in 2019
Wellesley, Mass. (PRWEB) December 30, 2014
BCC Research (http://www.bccresearch.com) reveals in its new report on commercial and residential HVAC (heating, ventilation, and air conditioning) systems that this market will grow from $75.4 billion in 2014 to $116.6 billion in 2019, registering a five-year compound annual growth rate (CAGR) of 9.1%.
The transformation the HVAC business is experiencing will open the door to new vendors that are likely to change some of the market rules. The industry is challenged by the role that equipment emissions play in the destruction of the ozone layer and global warming. In addition, the search for greater efficiency is impelling new approaches to technology such as ductless HVAC and district cooling and heating. One more challenge HVAC is facing is its integration with the 'Internet of Things,' a popular concept in which all electronic devices will bear their own identification and will be detectable on the web.
"Growth in commercial and residential HVAC demand is propelled by the overall economic growth of countries and regions that generate individual wealth and create new appetites for consumers who are accessing middle class status," says BCC Research analyst Patrick Levy. "Higher standards of living bring aspirations for home ownership, more comfortable living conditions, and access to a social status of which HVAC can be considered a significant and visible attribute."
HVAC systems are used to keep temperatures at a preset level and are found in a growing number of buildings globally.
Heating, Ventilation and Air Conditioning: Global Markets presents an overview of the HVAC market by region and details technology and technical challenges. Market forecasts are included through 2019.
Editors and reporters who wish to speak with the analyst should contact Steven Cumming at steven.cumming(at)bccresearch(dot)com.
About BCC Research
BCC Research publishes market research reports that make organizations worldwide more profitable with intelligence that drives smart business decisions. These reports cover today's major industrial and technology sectors, including emerging markets. For more than 40 years we've helped customers identify new market opportunities with accurate and reliable data and insight, including market sizing, forecasting, industry overviews, and identification of significant trends and key market participants. We partner with analysts who are experts in specific areas of industry and technology, providing unbiased measurements and assessments of global markets. Recently selected as the world's greatest market research company, BCC Research is a unit of Eli Global, LLC. Visit our website at http://www.bccresearch.com. Contact us: (+1) 781-489-7301 (U.S. Eastern Time), or email information(at)bccresearch(dot)com.