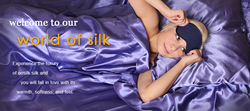 (PRWEB) December 31, 2014
OOSILK was created to bring the finest silk sheets from China, silk pillowcases, and silk duvets to the world. It is a traditional silk retailer with a long history of 15 years and it is changing. OOSILK can be one of the year's most dependable real silk bedding providers. Now, the business is offering gifts for all orders and special discounts for some selected products.
The products from OOSILK are shipped to the U.S.A, UK, Canada, Australia, France, Germany, and other Europe countries. Made with 100% Grade A mulberry silk (the finest quality silk), designed in a timeless classic style, and handcraft by a group of skilled workers, these products are truly loved by a lot of people. The affordable prices start at $25, which is attractive for lovers of luxury silk products.
Silk means a lot to the founder of OOSILK. "My hometown is Suzhou, China. Here, for thousands of years, every family has insisted on the tradition of planting mulberry and raising silkworms. My childhood memory is inseparable from planting mulberry and raising silkworms. I have been using silk products since my childhood, and I deeply understand the benefits of silk. When I graduated, I came back to my hometown to help in my father's traditional silk business. I want all of you can enjoy high quality silk products, " the founder said.
OOSILK has a young team that focuses on a website and a traditional, older, skilled team specially producing silk, to make sure every customer is satisfied.
About OOSILK
OOSILK (oosilk.com) is a global luxury silk website. This professional online silk provider offers finest quality silk pillowcases, silk duvets, silk sheets, etc. They insist on top quality by only use 100% Grade A mulberry silk. More information, please refer to https://www.oosilk.com.