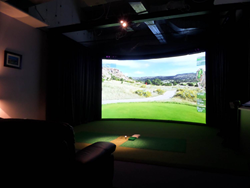 "Our top-of-the-line HD Golf™ simulator uses real high definition imagery and GIS data of actual courses to replicate the true feeling of playing the course. There's nothing like it except the course itself."
Vaughan, ON (PRWEB) December 30, 2014
Performance Golf, the United Arab Emirates' first premiere indoor golf facility, opened its doors in November and is already achieving much success. The facility combines state-of-the-art technology, including High Definition Golf™ simulators, and world-class coaching to provide its members with a unique golf experience that will help take their game to the next level.
"At Performance Golf, it's important for us to use the best technology," says Travis Bundus, General Manager of Performance Golf. "Our top-of-the-line HD Golf™ simulator uses real high definition imagery and GIS data of actual courses to replicate the true feeling of playing the course. There's nothing like it except the course itself."
In addition to the incredible accuracy and realism of the HD Golf™ simulator, they come equipped with integrated training aids including diagnostic tools for shot analysis, video swing analysis, weight transfer/balance and motion analysis, as well as feature-rich tools for precision club fitting and equipment comparison.
Coupled with first-rate instruction using highly technical and skilled methods of teaching the game in a controlled environment, Performance Golf is dedicated to helping golfers improve their game.
"Whether your goal is to perfect your swing, add distance to your drive, lower your handicap, or tighten your short game, our instructors can help," says Bundus. "There's nothing more gratifying than seeing our customers enhance their golf game."
"Performance Golf is a great facility for serious golfers and novices alike," says Todd Richardson, President & CEO of High Definition Golf™. "Our high quality simulators allow the beginner golfer to discover the joy of the game, in addition to allowing advanced golfers to analyze and tweak every part of their shot."
About High Definition Golf™
High Definition Golf™, the world's best golf simulator, pioneered computer vision technology in the virtual golf simulation industry. Spectacular photo-realistic capabilities capture the true beauty of some of the world's most renowned golf courses. For instruction, HD Golf™ offers a fully integrated professional golf instruction studio. The system generates a variety of customizable performance reports that golfers may access online. Very easy-to-use, these professional-grade tools operate seamlessly from a single computer system. This has made HD Golf™ simulators a favorite in luxury homes, indoor golf centers, golf course clubhouses, recreation centers, luxury hotels & resorts. For more information, visit http://www.HDgolf.com. Be sure to like us on Facebook, and follow us on Twitter.
About Performance Golf UAE
Performance Golf is a world class facility in Abu Dhabi with the primary objective of bringing the enjoyment of golf to all skill levels and is committed to providing a cost effective, time efficient, climate controlled golfing experience. Performance Golf is Located in the Mubadala International Tennis Stadium within Zayed Sports City. To learn more, visit http://www.performancegolfuae.com.
For media inquiries contact: Soulla Lindo, Marketing Director, Soulla(at)hdgolf(dot)com
For sales inquiries contact: sales(at)HDgolf(dot)com
Company: Interactive Sports Technologies Inc. 1-866-323-0095 http://www.HDgolf.com