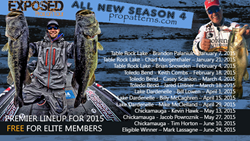 Yankton, South Dakota (PRWEB) December 31, 2014
On Jan. 7, 2015, ProPatterns, Inc. will release the season premiere of its online series Exposed at http://www.propatterns.com, now entering its fourth season. The one-of-a-kind behind-the-scenes reality series follows top competitors in the sport of bass fishing as they analyze and breakdown competition waters during practice days before tourney events on the Elite trail, in pursuit of top honors and a points race making them Classic eligible.
Season 4 of Exposed leads off with two-time Elite champion Brandon Palaniuk at Table Rock Lake. Always a contender for Classic top honors, the young champion brings heat to the series for a second year in a row. Following Palaniuk in January and exposed for the first time in 2015 is Bassmaster Classic Wild Card winner Chad Morgenthaler. These two pros are followed by Exposed veteran Brian Snowden on Feb. 4.
As part of its 2015 shakeup, ProPatterns and Exposed will highlight and promote a single professional angler every two weeks. Fans will also have a chance to follow and interact with many of the pros on the ProPatterns website. Site enhancements that commenced at the end of 2014 offer a user friendly platform for members to journal, build their own profiles, and connect with pros and amateurs alike. Starting in the summer of 2015, Elite members will also have access to live insider interviews with the pros. All of these enhancements come free for ProPatterns Elite subscription members. As always, Elite members will also have access to Exposed premiers the moment they are released, and once the videos are in Elite member libraries, these episodes never have to be purchased again.
Exposed rolls on in February with an episode featuring Falcon Slam winner and Toyota Texas Bass Classic Champion Keith Combs. Combs is followed by Bass Pro Shops Central Open #2 winner Casey Scanlon and Western Open #2 winner Jared Lintner, both appearing in March of 2015. All three competitors are exposed for the first time in 2015.
April will introduce Exposed fans to veteran six-time Classic competitor Bill Lowen. Lowen is followed in April by Exposed veteran and Red River Open winner Billy McCaghren, as well as seven-time champion and Exposed regular Mike McClelland.
May brings to the Exposed mix two new faces: Elite five-time top-ten finisher Kevin Hawk; and the 2014 Rookie of the Year Jacob Powroznik. Tim Horton, of Timmy Horton Outdoors, rounds out the season in June as he takes on Chickamauga. He comes back for a second special episode in June, bringing with him last year's winner of the Exposed Eligible? film contest Mark Lassagne. This exciting new feature to Season 4 of Exposed offers the winner of the past year's film contest the opportunity to gain exposure on a national stage in a full-length episode of Exposed.
ProPatterns members who sign up for an Elite subscription or renew their memberships will have access to every interview and Exposed episode as they are released, as well as full access to all public journal, and a chance at the Fantasy Fishing grand prize, which includes a pheasant hunt travel package with a bevy of Exposed pros. While anybody with an email address can sign up for a free ProPatterns social membership, Elite memberships include all these features plus a number of other promotions and deals only available atProPatterns.com.
ProPatterns ends 2014 by inviting fans to visit the Facebook pages of the pros included in the Exposed 2015 lineup to find out how they can receive an instant 20% discount on ProPatterns Elite memberships or http://www.propatterns.com for additional news.
More About ProPatterns, Inc. and Exposed:
ProPatterns, Inc. is a leader of angling education by sharing professional fishing tips, industry information and member services online. In addition, ProPatterns offers prize filled competitions, sharing of information among peers, and connections to industry professionals and media through means available nowhere else.
Information is gathered from various sources and disseminated with members in a variety of ways. The Exposed video series, for example, gains all of its integrity from an alignment with the biggest names in the bass fishing industry including professionals who fish with BASS, FLW, and PAA. Cooperation from the anglers and their willingness to share is the catalyst for the growth of this series.