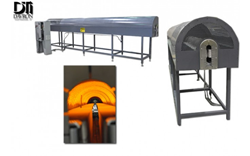 Chattanooga, Tennessee (PRWEB) December 30, 2014
Davron Technologies, Inc. designed and manufactured the DTI-1031, an annealing oven that uses electric infrared panels to anneal glass products used by a Tier 1 automotive supplier. A specialized indexing conveyor oven, the DTI-1031 allowed the customer to streamline its annealing process by eliminating steps that required additional handling of the products. Prior to commissioning the DTI-1031, the annealing process was done in an inefficient rotary system that utilized open gas burners. This system required tedious handling to load and unload product and wasted utilities.
The DTI-1031 includes an annealing chamber and cooling chamber in one system. The annealing oven's heated chamber utilizes a series of infrared heater panels arranged in individual zones. This arrangement allows for temperature adjustment throughout the annealing chamber. The customer provided the conveying system and tooling to move product through the chambers.
The annealing oven features a structural steel frame with 10"-thick insulated walls. The exterior is carbon steel and is painted with high temperature paint. The system features two access doors that provide access to both the annealing chamber and cooling chamber. The maximum operating temperature of the DTI-1031 is 1500⁰F. The overall dimensions of the system are 2'1" wide x 1'4" high x 18'0" long.
Davron designed the DTI-1031 annealing oven based on two criteria provided by the customer: the target production rate per hour and the temperature required to anneal. Once the annealing oven was manufactured, Davron did acceptance testing and training with the customer at Davron headquarters in Chattanooga, Tenn., prior to shipment. Davron then went on site to install the oven at the customer's facility.
Visit http://www.davrontech.com for more information about Davron's annealing oven capabilities. Or, if you'd like to discuss your own industrial oven project, please call Davron's Vice President, Jimmy Evans, at (888) 263-2673, or fill out Davron's online spec submission form.
About Davron Technologies, Inc.
Davron Technologies, Inc. custom fabricates industrial ovens, providing turnkey design and system integration services to develop thermal processing solutions. Davron is a total industrial oven manufacturer, creating custom industrial ovens and precision process equipment for every industry that requires thermal processing. Each Davron industrial oven is custom built according to customers' unique specifications. As the Provider of Industrial Oven Solutions, Davron offers one of the largest selections of in-house and on-site industrial oven services in the world.
###