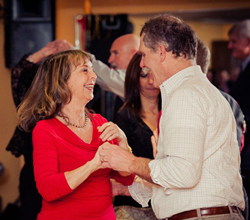 Ballroom dance provides the health benefits people crave in a fun, dynamic environment.
Houston, TX (PRWEB) December 31, 2014
Self-improvement and weight loss are always the most popular New Year's Resolutions, but 50 percent of all folks will cancel their gym membership within six months of registering.* That's why a growing number of people are trading in their cross trainers for dance shoes to shimmy into shape.
"Ballroom dance provides the health benefits people crave in a fun, dynamic environment featuring easy-to-learn routines," Jack Rothweiler, President and CEO of Fred Astaire Dance Studios said. "Studies prove dance helps people lose weight and feel better – both mentally and physically – while having a great time."
Why It's Better in the Ballroom…
Research conducted over the last 20 years reveals a long list of physical, mental and emotional benefits from dancing.
Weight Loss – Studies show that dancing continuously for 30 minutes has the same impact on weight loss as walking, swimming, or cycling (Mayo Clinic).
Consistency counts – A weekly dance program improves physical performance and increases energy levels among adults (The Scholarly Publishing and Academic Resources Coalition).
Heart Health – Consistent social dance exercise leads to a slower heart rate, lower blood pressure and improved cholesterol levels (Mayo Clinic).
Bone up – Dancing boosts bone density, along with muscle strength and coordination (American Council on Exercise).
Fight off the Flu – Dancing increases the rate at which antibodies flow through the blood stream, boosting immunity. The increased body temperature generated during moderate exercise can help prevent bacterial growth which causes the flu (National Institute of Health).
Stress Buster – Research reveals dancing with a partner or by yourself to music is a great way to relieve stress (Journal of Applied Gerontology)
Tango on – In a study of 100 adults, doing the tango resulted in lower levels of depression, stress and anxiety (Complimentary Therapies in Medicine). Tango dance also lessened the degree of sleep disturbance and insomnia (Dr. Rhonda Brown University of New England in Australia).
Learn more about ballroom dancing at http://www.learntodancewithfred.com.
*International Health, Racquet and Sports Club Association