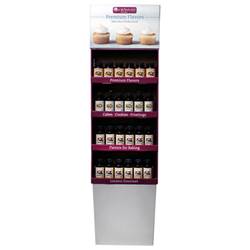 LorAnn Oils will be featuring a DIY candy kit for make-your-own cinnamon flavored candy "coal"
Lansing, MI (PRWEB) December 31, 2014
LorAnn Oils will be an exhibitor (booth #635) at the West Coast's largest specialty food and beverage trade show. The Winter Fancy Food Show will be held at the Moscone Center in San Francisco beginning January 13 and will host over 1300 exhibitors from around the globe.
LorAnn Oils will be featuring a new idea for a DIY candy kit for make-your-own cinnamon flavored candy "coal". The holiday-themed kit will include everything one needs to make and give candy "coal" to those on the naughty list.
LorAnn Oils will also be highlighting a new retail display for their popular Bakery Emulsion line of baking flavors as well as for their premium vanilla extracts. The new displays will be available in a variety of pre-packed options. Bakery Emulsions are water-based flavors that are alternatives to alcohol-based flavor extracts. As water is a more neutral carrier than alcohol, the flavors stay more true and do not "bake-out".
LorAnn Oils will also be showing several new flavors in their super-strength line of candy oils and essential oils that are ideal for flavoring candy, chocolate, and baking.
About LorAnn Oils:
Family-owned and operated since 1962, LorAnn Oils is a wholesaler and retailer of high-quality gourmet flavors, essential oils and fragrances catering to both the home consumer and small companies including bakeries, cake-pop businesses, cupcake businesses, candy makers, popcorn shops and more.
Our products are sold in the United States and throughout the world. LorAnn products can be found in grocery stores, gourmet retailers, mass merchandisers, pharmacies, craft stores, and cake & candy supply shops.