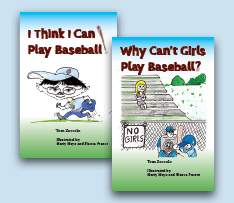 Holmdel, NJ (PRWEB) February 02, 2015
Tom Zoccolo, a long-time sports coach whose passion is baseball, wrote his first selection about a boy who struggled with playing Little League Baseball for the first time but later succeeded. Tom's second story was about a talented athletic girl not permitted to play Little League Baseball and chose softball instead, and knocked it out of the park.
Tom decided to self-publish his stories with Mira Digital Publishing at http://www.mirabooksmart.com. Tom's future projects include the third book in the baseball series entitled The B Team, other children's stories, a collection of poetry, a science fiction selection, a murder mystery and a screenplay.
Tom has coached numerous sports teams in New York City and New Jersey for more than 35 years. Coach Tom is also the co-founder, owner and instructor of a baseball academy in central New Jersey. Tom is a former supervisory editor for The Associated Press in New York City and currently teaches at a public school in Jersey City, New Jersey.